Last Updated on 11/24/2022 by Dean
Reaction streaming is a new trend on Twitch in 2022. While it would be impossible to stream copyrighted content on YouTube Gaming without getting insta-banned, on Twitch the rules seem a little more relaxed. Both xQc and HasanAbi streamed Masterchef on Twitch without getting repercussions. But when DisguisedToast tried to stream the anime Death Note a couple week later, he was banned for it while being live.
Streaming Anime on Twitch is dangerous. Especially as a small streamer who might not get the same treatment as a top-tier content creator.
But watching Anime on Twitch is possible, if you do it correctly. In this article, we'll take a look at 3 methods you can use to legally stream Anime on Twitch.
But first, let's answer your question:
Can I watch anime on Twitch?
The short answer is no – you can not watch anime on Twitch legally. Unless you have a sponsorship with a publishers (e.g. Crunchyroll) you are not allowed to stream anime on Twitch.
Doing so without permission will most likely result in a ban.
Two major creators have been banned for streaming anime before:
Both bans were likely a direct result from DMCA strikes.
That being said, it is possible to legally stream anime on Twitch, it's just not as straight-forward.
How to legally watch anime on stream
1. Use Twitch Watch Parties
Since Twitch is owned by Amazon, Twitch streamers (and viewers) can enjoy certain Amazon Prime benefits. One of them is Watch Parties. Using Watch Parties, streamers can legally stream Anime on Twitch.
Watch Parties is a feature that lets Twitch streamers stream Prime Video content without the possibility of getting DMCA strikes. The way it works is that the streamer is not streaming the content themselves but instead Twitch is taking care of this part.
Viewers must have an active Prime Video subscription to be able to participate in a Twitch Watch Party. Otherwise they won't be able to watch the streamed content.
Additionally, of course, the Twitch streamer also must have an active Prime Video account to be able to stream anime through Twitch's Watch Party feature.
Due to these requirements, Watch Parties aren't ideal as not everyone has Amazon Prime.
How to set up a Watch Party
Watch Parties can be started from the Creator Dashboard under Stream Manager.
You should find 'Start Watch Party' in the Quick Actions on your right.
If the action is not showing up, click on the + to add a new Quick Action and look for 'Start Watch Party'.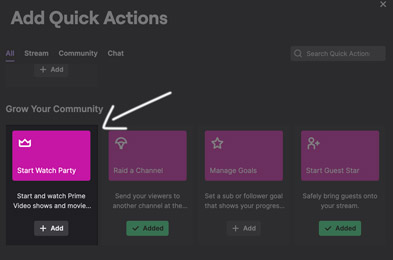 Next, Twitch will require you to sign in to Amazon to link Twitch with your Prime Video account.
Once logged in, you will be able to select the Anime you want to watch on stream.
⚠️ To use Watch Parties you should only use your webcam and microphone. Disable any display recordings.
Finally, you should make your webcam take up your entire stream window.
2. Use Tenami Watch Parties
Tenami is a service that is developed using Twitch's Watch Party technology (as mentioned above) and allows you to stream anime from Netflix, Crunchyroll, and other services!
Just like Twitch Watch Parties require Prime Video, you and your viewers should have an active subscription with the streaming service.
(e.g. if you want to stream anime from Netflix, you will need a Netflix subscription and subsequently your viewers will need subscriptions of their own)
Additionally, Tenami requires a download. Both the streamer and the viewers will have to download the Tenami extension for Google Chrome. You can download the extension here. Or head over to Tenami.tv.
This makes Tenami slightly more inconvenient as you will have to urge every viewer to install the chrome extension.
Using Tenami is 100% legal and DMCA-free due to the fact that everyone will be watching the anime using their own accounts.
If you want to stream anime using Tenami, you can watch the quick tutorial below.
3. Use an on-screen Timer
One fool-proof way to watch anime on stream without getting DMCA-striked on Twitch is to simply stream the on-screen timer and NOT the anime footage.
This way, anyone viewing your stream can watch the episode with you and use your on-screen timer to keep track of where you are.
This might not be the prettiest method, but it is the easiest one on this list considering the other options require you and your viewers to have subscriptions to streaming services.
Why can Disguisedtoast stream anime on Twitch?
Disguisedtoast has a long history of being suspended on Twitch over watching anime. First he was suspended over streaming Naruto in 2021 and in 2022 he got flagged for streaming Deathnote on stream.
Has his love for anime put Disguisedtoast in hot water? Turns out not as Toast revealed on Twitter that he is partnering up with Crunchyroll.
You guys all know how much I love watching anime legally!😏

So I'm excited to finally be able to announce that I'll be partnering up with Crunchyroll to watch Anime on stream with my viewers!😇

Checking out Chainsaw Man today!https://t.co/LWct5JM3aj #crunchyrollpartner pic.twitter.com/kl5YN6h5SP

— Toast (@DisguisedToast) November 15, 2022
So if you see Disguisedtoast streaming anime on Twitch, don't worry, he is now doing it legally.
This does not mean that you can do the same. If you want to watch anime on stream, you will have to use one of the 3 options we've provided above.