Last Updated on 01/02/2023 by Dean
Interested to know what type of gear T1 Faker uses in his streaming setup to stream on Twitch? In this article, we'll take a look at every piece of equipment Faker uses (at least the ones we could find!)
We aim to update our stream setup articles every 3 months, if the info is outdated don't be afraid to contact us and we'll update it!
As an Amazon Associate, I earn from qualifying purchases.
---
What mouse does Faker use?
T1 Faker is part of an exclusive contract with Razer which requires him to use their mouse and keyboards. The mouse that they supplied faker with is the Razer Viper Ultimate, their flagship mouse.
Sponsorship aside, Faker has always favored Razer products and even played with their products before any sponsorships.
The Razer Viper Ultimate is a wireless mouse that comes with a handy docking station. It has 8 programmable buttons, 70 hours of battery life and a 20K DPI optical sensor. Additionally, the mouse features Razer's chrome lighting system.
The Razer Viper Ultimate is a great gaming mouse for any FPS or MOBA players who want to go wireless without any delay. It rivals the Logitech G Pro Wireless and even beats them in the price category all-the-while including a docking station.
---
What keyboard does Faker use?
Just like for his mouse, Faker has to use a razer product for his keyboard.
The Razer Huntsman V2 is the improved version of the beloved original Razer Huntsman. The new version comes with improved sound dampers and a polling rate of 8000Hz.
This keyboard is tournament ready with a detachable USB-C cable and ergonomic wrist rest. It features Doubleshot PBT keycaps and comes with either Clicky optical Switches or Linear Optical Switches.
---
What headset does Faker use?
Since Steelseries became the official headset sponsor for T1 in August of 2021, Faker has been using their Arctis Pro headset.
It's not uncommon to see Faker play with a regular pair of earphones though.
The Arctis Pro is an impressive piece of technology at an extravagant price point. This wireless headset has a very clean, futuristic design and comes with a swappable dual battery system. I haven't tried it out but it sounds like this swappable battery system might be the gamechanger for wireless headsets.
---
What monitor does Faker use?
Who wouldn't use the monitor that literally has your name on it? Just like for most of his gear, Faker uses a monitor provided by his sponsor: Samsung Oddysey. The Samsung Oddysey G7 is a 27 inch monitor (available in 32 inch as well) which plays games at 240Hz. Its resolution maxed out at 2,560 x 1,440 which can be played at 165Hz. Aside from that it has Freesync Premium and is G-sync compatible.
The screen itself is curved and the T1 Faker edition contains T1's red color scheme as well as an embossing of Fakers autograph.
---
What chair does Faker use?
Faker sits in a chair by his sponsor Secret Lab. The Secret Lab Titan Evo 2022 is available in a T1 edition for Faker and his team.
Secret Lab has been dominating the gaming chair scene for a while now. Their technology has improved a lot in the last couple of years where they have knocked competitors such as DXRacer completely out of the water.
The Secret Lab Titan Evo 2022 doesn't just look sick, it has a bunch of features such as their 4-way built-in lumbar support system, 4D armrests which can be replaced, magnetic memory foam pillow, ergonomic pebble seat base and much more. It does come at a premium price of course for a chair but when compared to competitors such as Herman Miller and Mavix, it's a steal.
What webcam does Faker use?
To show his face on his Twitch streams, T1 Faker uses the Logitech Streamcam. This is unsurprising as the new streamcam by Logitech is THE choice for live streamers who want to have a high-quality facecam without bothering to hook up a DSLR.
Logitech's Streamcam is a step up from the beloved Logitech C920 and C922 models and is designed for streaming. It can stream full HD 1080P and 60 FPS, has a smart auto-focus function, an auto-framing function that keeps you in the center of the screen, and a USB-C connection to make it future-proof. All in all a great webcam for any type of live streamer.
---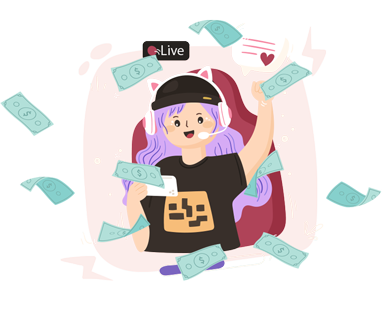 Want to know how much Faker makes?
We've collected intel on Faker income from Twitch, Youtube, and other sources!
---
What is Faker's mouse DPI?
Faker's mouse is set to 3500 DPI.
What sensitivity does Faker play at?
Faker's in-game sensitivity for League of Legends is set to 70.
Is Faker retired?
No Faker is still playing for T1. His contract ends this year though so who knows what will happen in the future.
Is Faker an owner in T1?
Yes Faker became part owner of T1 in 2020.
Wrap up: Faker Stream Setup
That's all the information we found on Faker Streaming Setup. In case something is missing or needs updating, feel free to let us know! We aim to keep these STREAM SETUP articles as updated as possible.
Check out our other streaming equipment articles below or continue reading more of your favorite streamers' setups.
Best Streaming Equipment in 2022
Are you reading this article because you're looking to upgrade your streaming/gaming setup? We got you covered!
In a separate guide, we've collected the best streaming equipment you can find for EVERY budget. Whether you're looking for an entry-level, intermediate, or professional streaming setup, we've done the heavy lifting for you!
You can also navigate some of our buying guides:
More streamer Setups