Last Updated on 05/06/2022 by Dean
The days of needing to show your face to become a streamer are long gone. VTubers are accumulating tens of thousands of viewers by using a 3D avatar to represent themselves on stream.
In this step-by-step guide, you will learn EVERYTHING you need to know how to get started with vtubing.
Let's get started.
What is a vtuber?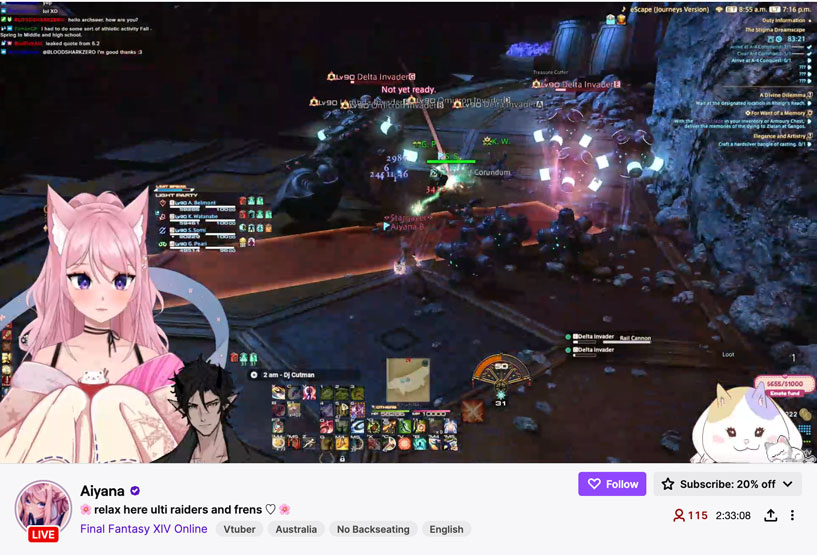 Vtuber stands for Virtual Youtubers. They are essentially real people who use a 3D character to represent themselves on stream. This allows them to be a faceless streamer while still maintaining a visible and familiar presence online.
Vtubing has become more and more popular over the last couple of years and we expect this growth to continue as more and more streamers are diverting away from showing their real faces online.
Why become a vtuber?
Becoming a vtuber has many advantages. For one, you don't have to reveal your face online. This can help people who struggle with anxiety pursue their dreams of becoming a streamer on Twitch or YouTube. Aside from that, it allows people to hide their identity online which is a bonus if you don't want to lead a public life.
Being a vtuber is also super fun! You get to go nuts with the customizations. Do you want horns? Go for it! You don't have to be a copy of yourself, you can be whoever you want to be. Many vtubers play a character on stream.
Want to draw inspiration from vtubers? Check out our list of VTubers on Twitch.
Using a vtuber model can also help with insecurities. In a world where you might feel judged based on your appearance, you can truly shine as a vtuber.
And finally, the vtuber community is tight-knit and growing every day. They are very welcoming of new vtubers and they support each other more than other communities on Twitch.
What is required to become a vtuber?
The biggest hurdle for vtubers is the budget. While most streamers can get away with a scuffed setup, Vtubers have to have quite a bit of equipment to get started.
Aside from equipment, Vtubers also need a 3D avatar. This can be costly if you really want to stand out. But what many starters don't realize is that you can create your vtuber character for free as well.
How you can create a free 3D avatar to start your career as a vtuber, is coming up later in this article.
Equipment to become a Vtuber
Webcam

One of the bare minimums that a vtuber need is a webcam. Without a webcam, you cannot use motion tracking software to operate your vtuber model.

👉 For more info, Check out Best webcams for streamers
Decent Lighting Setup

Motion Tracking Software isn't perfect. If your room is badly lit, this could result in some expressions not being picked up by your software. To get the highest results, a decent lighting setup is recommended. We even go as far as to say that the quality of your lighting setup is more important than the quality of your webcam.

👉 For more info, Check out our Lighting Setup Guide
Streaming PC

You'll need to have a PC that is capable of running your tracking software, obs, and video games at the same time. Don't worry though, PCs have come very far and as long as you aren't running a decade-old toaster or a budget laptop, you should be fine.

👉 If you don't already have a Streaming PC, Check out our Budget Streaming PC Guide
Microphone

While you don't need a microphone to start VTubing, you wouldn't be a real vtuber if you didn't chat with your viewers of course! Don't worry, you can pick up a cheap microphone for as little as $50.

👉 Check out our budget microphone list for streamers
Streamerfacts recommended budget setup for Vtubers
Here is a budget setup that we recommend to beginner vtubers:
Webcam: Logitech C920 ($60)
Lighting: Neewer Key Light Set ($50)
Microphone: Razer Seiren mini ($50)
Software to become a Vtuber
Avatar Creation Software

The first piece of software you'll need is the one to create your avatar. We recommend VRoid Studio because it's free, easy to use, and allows customs textures. Later in this article, we explain exactly how you can create your Vtuber model in VRoid Studio.
Face Tracking Software

Next up, you'll need software that will import your 3D avatar and track your face to mimic your expressions. There are a bunch of software options when it comes to face tracking for vtubers here they are:

We recommend VseeFace as it is free, lightweight, and easy to use. You'll also find that the majority of beginner vtubers use this software.

Later in this article, we'll guide you through VseeFace and its features!
OBS

Finally, you'll need to have broadcasting software. This piece of software will capture your vtuber and game window while streaming. At Streamerfacts we are fans of both OBS Studio and Streamlabs. Both are free and used by the large majority of streamers. Streamlabs is a bit more beginner-friendly though so we recommend that everyone start out with that.
If you want to become a VTuber for FREE, you should use VRoid Studio in combination with VseeFace.
Where to get a 3D avatar for vtubing
There are three ways you can go about acquiring a character to launch your career as a vtuber streamer.
Pay a freelancer to create your 3D Avatar

Commission a Vtuber model from Fiverr

If you want an avatar that will stand out and will be completely yours, your best bet is to commission an artist to create your 3D model for you. A full, detailed 3D avatar on a site like Fiverr will cost you about $200.

Create your own 3D avatar
The cheapest option you have is to create a 3D avatar yourself. You even have free software such as Vroid Studio which allow you to create your vtuber model completely for free. And no, you don't need to be an artist to create your 3D avatar yourself. Some software, allows you to customize your character as you would in a video game.

Purchase a premade 3D avatar
If you don't want to create your own 3D avatar but don't have the budget to commission an artist, you can purchase a premade avatar instead. These avatars will look more elaborate than the ones you would create yourself (unless you are an artist of course) but you can run into the issue of having the same model as another vtuber.
You can purchase premade vtuber models from Sketchfab.
How to create your own FREE avatar with VRoid Studio
Install VRoid Studio

VRoid Studio is the go-to software for making your 3D avatar yourself. It is free and available for both Mac and Windows. VRoid Studio is also SUPER EASY to use as you can simply design your 3D avatar as you would a character in a video game with the use of sliders.

Create your 3D Avatar

During this step, you can let out your creativity and design your vtuber in whatever way you see fit.

Inside VRoid Studio, you start from a blank character.

The software allows you to select from a bunch of presets (found on the right) and alter those presets through sliders (found on the left).

VRoid Studio is super customizable so you should really take your time with this step.

The video below goes over every feature of VRoid Studio to help you create your vtuber model. Definitely worth checking out!

If you want to take it a little further, you can also add custom files to VRoid Studio.

You can find custom files for VRoid Studio on the website booth.pm.

While most files are paid on this website (albeit quite cheap), there are plenty of free files available as well.

If you are looking for a texture for fishnets, horns, or a specific outfit, you will definitely find them on Booth.

Once you feel like your avatar is finished, be sure to save the file and give it a proper location on your drive.

Export your vtuber model

Once you are done, you'll need to export your Vtuber model to a .VRM format.

This is the format required for face tracking software such as VseeFace, Wakaru, and more.

Exporting is simple. In the top right corner of VRoid Studio, you'll find the export button.

This will take you to another window. Don't make any changes here and simply hit export again.

Make sure to save your file to a location where you will find it again.
How to start Vtubing on Twitch
After acquiring your vtuber avatar (whether you purchased it or made it yourself), the next step is to install motion tracking software.
Motion tracking software will use your webcam to capture your facial expressions and mirror the movements of your avatar with your own.
In this example, we'll use VseeFace because it's lightweight and free to use.
Install VseeFace

VseeFace is a FREE motion capturing software where vtubers can import their avatar (.vrm file) and operate it with just a webcam.

VseeFace can be downloaded for free from its original website.

Add your avatar to VseeFace
Inside VseeFace, click on the big + button to add your avatar. To import your model, simply select the .VRM file you exported from VRoid Studio earlier.
If you bought a 3D avatar instead, make sure you have the .VRM file.
Once the avatar is imported, make sure to add the correct camera and microphone.
The image above has the recommended settings for VseeFace. If you wind up experiencing issues (such as lag), lowering the camera settings, fps, and tracking quality should make it easier on your PC.

Configure VseeFace
VseeFace has many settings that you can turn on and off.
For example, you can add automatic blinking to your avatar to make it look more natural.
Aside from that VseeFace also has a bunch of effects that you can add.
And finally, you can configure your hotkeys to add emotions (e.g. press A to for angry face) to your avatar.
An overview of these settings can be found in the video below.
Add VseeFace to OBS
In order to have our vtuber model show up on stream, we'll have to add a game capture window to our OBS.
So go to Source and Add Game Capture.
Enable "Add a new source instead" and give it a name (e.g. Vtuber Model).
Inside the settings, change the mode to 'capture specific window' and select VseeFace.
You also want to make sure you check 'allow transparency'.
That's it! Your vtuber model should now be displayed on your OBS.
To remove the UI of VseeFace, use the ALT key to drag and crop your game capture so that it only includes your avatar.
Frequently Asked Questions
How much does it cost to become a Vtuber?
Being a vtuber is really not as expensive as some make it out to be. You can get going with a budget vtuber model for free as long as you have access to a webcam, microphone, and a PC that is capable of streaming.
Can anyone become a Vtuber?
Yes of course. Vtubing is available to everyone who has access to the internet. Whether you are rich or broke, you can get started with virtual youtubing. Besides that, the vtuber community is lovely and acceptable of many different lifestyles.
Can I become a vtuber without a camera?
While most people use a webcam to track and mimic their facial expressions, it is possible to become a vtuber without a webcam. However, this is not recommended. You are much better of buying a budget webcam from AliExpress or your local dollar store than trying to figure out how to become a vtuber without a webcam.
Do I need special equipment to become a vtuber?
There is a common misconception that you need special equipment to become a vtuber. This is actually not true. While vtubers like CodeMiko have expensive gear that costs thousands of dollars, there is free software out there that is capable of tracking your movements from your webcam.
Can I be a male vtuber?
Of course, you can. While most vtubers out there are female, there are also male vtubers as well and the community is very accepting of them.
Conclusion
This about wraps up our guide on how to become a vtuber on Twitch. Hopefully, by now you know everything you need to know to get started.
Here's a little sum-up of what you've learned:
---
Want to learn more about streaming on Twitch?
Now that you've learned how you can become a vtuber, you should check out our other guides which will help you get started on Twitch, grow on Twitch, build an audience, and more!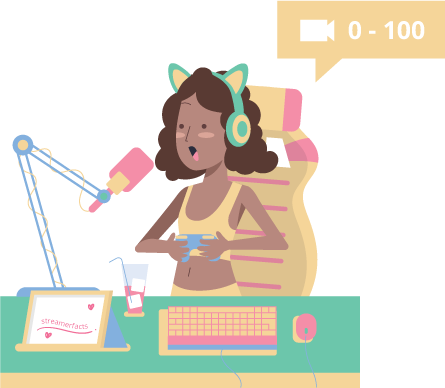 Our guides cater to all levels of streamers. You can start off from 0 or pick up on your way to make Partner! 🏆