Last Updated on 05/11/2022 by Dean
Do you feel like Twitch ads are out of control? Are you getting 60-second ads on Twitch? Advertisements can be very invasive and Twitch seems to be the king in that department.
In this article, we'll take a closer look at WHY there are so many Twitch ads as well as how you can stop getting ads on Twitch.
Why does Twitch have ads in the first place?
Twitch runs ads for the same reasons that YouTube runs ads. Running a platform as large as Twitch is extremely expensive with the massive amounts of server space required to keep it running smoothly. For this reason, Twitch turns to advertisements to keep up with the expensive server cost.
If Twitch didn't run ads, they wouldn't be able to offer their streaming platform as a free service.
Why does Twitch have so many ads?
If you are experiencing an enormous number of advertisements on Twitch, this is likely because the streamer set it up that way. While streamers have to live up to certain ad requirements, they are largely in control of how many ads you are seeing.
Another reason you might be seeing an excessive amount of ads on Twitch is that you are hopping from channel to channel. Many channels run pre-roll ads meaning you will be hit with an ad as soon as you join the stream.
How to stop ads on Twitch
The best way to permanently stop ads on Twitch is to subscribe to Twitch Turbo. Twitch Turbo is a subscription service that removes all ads from the platform for $8.99 per month.
If you only watch a single streamer, you are better off subscribing to them instead. Subscribing to a streamer will remove all ads from their channel only. You can subscribe to a streamer for $4.99 per month. You will also be granted a sub-badge, subscriber-only emotes, access to sub-only chat as well as the ability to support the streamer.
⚠️ Keep in mind that Subscribing through Twitch Prime does not remove ads on Twitch.
Other than paying, there are some free extensions that will help you block ads on Twitch. Keep in mind, however, that using these extensions will prevent you from being able to support the streamer.
How to block ads on Twitch without subscribing or paying
The only way you can currently stop ads on Twitch without paying is by using an Alternate Player for Twitch.
This is a working alternative to Adblock. The reason this extension works is that it replaces the Twitch Player with a different player. By doing this, it stops all ads from displaying on Twitch.
Installing this browser extension will add an extra button in the top right of your Twitch homepage.

When toggled on, any Twitch Stream will appear in a different player. This player will prevent ads from being displayed.
If you are truly looking for a way to block any ads from appearing on Twitch, Alternate Player for Twitch is your best option.
Keep in mind that when you use Alternate Player for Twitch to block ads, you are not supporting the streamer.
👉 Go to Alternative Player for Twitch
Does Adblock work on Twitch?
Adblock does not work on Twitch. The reason Adblock doesn't work is that Twitch is actively working against Adblock and successfully blocks any attempt coming from Adblock. This has been confirmed by Adblock themselves, while they continue to try out new ways to prevent advertisements from being displayed on Twitch, it seems Twitch is always one step ahead.
Adblock has successfully blocked Twitch in the past but these days are long gone. Since 2021, Adblock has been unable to successfully block ads on Twitch.
Viewers who still want to block ads can use the alternative player instead.
Does Ublock work on Twitch
Just like Adblock, Ublock currently does not successfully block ads on Twitch. If you are desperate to block ads on Twitch you should use alternative player for Twitch instead.
How much do Twitch streamers make from Ads?
It is not known how much Twitch streamers are making from ads. This is because Twitch doesn't allow its streamers to leak this type of information as part of the contract they have to sign once they become partners/affiliates.
That being said, we do have some insights as to how much Twitch streamers are making. For example, Amouranth revealed she was missing out on 40-50k in ads when Twitch demonetized her from the platform.
At the time, (April/May 2021) Amouranth had around 30 million monthly views on Twitch according to Twitch Tracker.
This would make Amouranth's CPM (cost per 1000 viewers) less than $1.50. This closely aligns with our own estimations that streamers earn about $2 per 1000 viewers.
How much a streamer earns from Ads also depends on how the streamers set up their ads. A streamer who smashes the ad button every 10 minutes is bound to make a whole lot more than someone who has an automatic ad scheduled every hour.
👉 Want to know more about how much streamers are making on Twitch?
FAQ
Why am I getting ads on Twitch when I'm subscribed?
As a subscriber, you should never get ads for a particular channel. Ad-Free watching is part of the subscriber perks. However, this perk was removed for Twitch Prime Subs. So if you are subscribed through Twitch Prime, you will still get ads.
Why do some Twitch channels have more ads than others?
Twitch streamers can set up their ads in whichever way they please. Many streamers have automatic ads set up which will roll in every hour while others manually roll ads whenever they feel like it.
Do streamers have control over how many ads I see?
While streamers are required to roll a certain amount of ads per hour streamed, they are definitely in control of how many ads are being displayed to you. If you feel the ads are invasive, the streamer is likely being too trigger-happy with their ad button.
What are pre-roll ads on Twitch?
Pre-roll ads are ads that play as soon as you join a stream. Most streamers have pre-rolls enabled. What's annoying about pre-rolls is that if you leave the stream and come back, the ad will roll again.
Conclusion
Sadly, Twitch ads are a big part of Twitch and help keep Twitch a free platform. If you are experiencing an annoyingly large number of ads on Twitch, consider calling out the streamer. They may not realize how invasive their ads are being to their viewers. If you wish to block ads altogether, consider subscribing to your favorite streamer.
By subscribing you will receive exclusive benefits as well as feel good about supporting a creator who is supplying you with many hours of entertainment! If you watch many different streamers, Twitch Turbo is the way to go.
Finally, if you wish to block ads on Twitch without paying, you can use alternative player for Twitch.
Is Streaming on Twitch for you?
Do you want to be the next streamer that makes money from Ads on Twitch?
Check out our other guides which will help you get started on Twitch, grow on Twitch, build an audience, and more!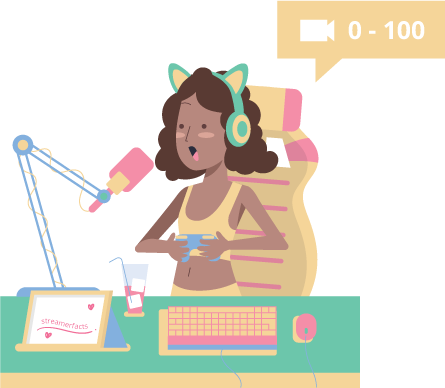 Our guides cater to all levels of streamers. You can start off from 0 or pick up on your way to make Partner! 🏆