Last Updated on 01/02/2023 by Dean
This is a comprehensive guide on how to use TikTok to grow your Twitch stream.
In this guide you'll learn:
Why you should use TikTok to grow on Twitch
It seems like almost every day, new TikTok creators go viral. This is because discoverability on TikTok is higher than any other social media platform out there.
As you are well aware, discoverability on Twitch itself is horrendous. So as a streamer, you should use the potential of TikTok to your advantage!
Just one single viral clip could potentially send over thousands of new viewers to your Twitch channel.
In 2021, you should not underestimate the huge opportunity that TikTok brings to the table.
---
How To Promote your Twitch Stream using TikTok
Step 1: Decide what content you want to post
Before you can go ahead and promote your Twitch stream on TikTok, you're going to have to come up with a content plan.
Here's an example of videos you can post as a Twitch streamer:
Twitch Highlights
Gaming content
Gaming tutorials
Dance videos
Skits
The kind of content that works best for you, will depend on your target audience.
Are you a gaming streamer? Then you'll drive the most traffic through gaming content and highlights.
Are you an IRL streamer? You might benefit more from participating in TikTok trends through dance videos and skits.
Step 2: Figure out how you're going to upload content
Most TikToks are created and edited on a smartphone.
For Twitch streamers, the process is a little different.
For example, you might want to upload stream highlights or video game content to TikTok.
In this case, you'll need a way to download and edit your clips for a vertical format.
Luckily, there is a free app called streamladder that does this for you!
I'll cover this in the next part of this article. [Skip Here]
Step 3: Focus on virality
Good TikToks go viral.
The problem is that most TikToks simply aren't good. They are boring.
If a TikTok isn't entertaining or interesting from the very first second, it will be skipped. And when TikToks are skipped, the algorithm banishes them to the graveyard.
To avoid this, you should teach yourself to create good, potentially viral TikToks.
When creating a TikTok, you have to put yourself in the shoes of a complete stranger.
Why should they watch your video? Why should they finish it? Like it? Comment on it?
Every video you post should intrigue the viewer from the very first impression. And the video should remain interesting until the end. And ideally, encourage them to like or even comment.
Step 4: Keep a dedicated upload schedule
Keeping a consistent schedule is key to success on TikTok.
The more your post on TikTok, the more followers you will receive.
But more importantly, the more you post, the better your TikToks will become. Experience comes from mistakes!
That's why you should keep a strong and consistent schedule.
For example, tell yourself you will post to TikTok every night at 8 PM. This will force you to have a TikTok ready to go at this time.
Do this for a couple of months straight and you will get yourself a nice following and lots of experience.
Remember, every new follower on TikTok is a potential new viewer on Twitch!
Step 5: Link your TikTok to Twitch
Since the purpose of your TikTok profile is to funnel traffic to your Twitch stream, you should make it very easy to find your Twitch profile.
Ideally, your TikTok username will match your Twitch username. Or at least, closely resemble it.
Next, your bio should contain your Twitch username and your stream schedule.
(e.g. I stream every day from 8-12 PM CEST over at Twitch.tv/yourusername)
And to top it off you can add a link to your Twitch stream as well.
To do this, you will need a business account so switch your account to business which can be done in the settings (It's free).
Once you have a TikTok business account you'll be able to add your Twitch URL in the settings under 'website'.
---
How to Upload Twitch Content to TikTok using Streamladder
Go to Streamladder.com.
Log in with your Twitch credentials (you don't need to but it makes it easier).
Select 'From Twitch' to upload any recent clip.
To upload an older clip or upload a clip without logging in to Twitch you can simply copy/paste the clip URL in the field.
Tap 'Get Clip' to create your clip.
Next, choose a template.
Streamladder will then ask you to locate your facecam.
Then, Streamladder will ask you to highlight your gamefeed.
Finally, you'll receive a preview of the end result.
Press finish to render the video.
Finally hit download!
---
How to Download your Twitch clip Manually
If you'd like to download and edit your highlights yourself (to achieve a more professional outcome) you'll want to download the clips yourself instead of using streamladder.
Here's how you can download your Twitch clips.
Highlights can be downloaded from Twitch in two formats:
Download a single clip
Download the entire VOD
To download from a clip, simply go to your Creator Dashboard and navigate to Content > Clips.
Select the clip and hit the share button.
To download an entire VOD on Twitch, go to your Creator Dashboard again and navigate to Content > Video Producer to download any past VODs.
---
How to Grow on Twitch using TikTok
Understanding how Discovery on TikTok works
TikTok can make you go viral overnight.
This doesn't mean that you will go viral though. The large majority of TikTok users do not understand how discovery on TikTok works.
But understanding the discovery system is the key to blowing up on TikTok (and in return growing your Twitch Stream).
Here's how TikTok discovery works:
Once you upload a new video to TikTok, TikTok will instantly test the quality of your video.
They will show it to a handful of people and see how they react.
Do they react well? (e.g. they watch the whole video, like or leave a comment) than TikTok will promote it to even more people. And this goes on and on.
That's how TikTok videos make it to the ForYou page. And that's why only GOOD videos go viral.
Characteristics of a Viral TikTok
Many TikTok videos reach only up to 1000 views before dying off. This means viewers didn't react well to the video and thus TikTok let it die
If this happens to you, don't fret, it just means you need to make some changes.
First, let's familiarize ourselves with the characteristics of a good TikTok.
A good TikTok:
Is entertaining from the very first second
Is fast-paced

Is rewatchable

Has good background music
Has engagement-bait
Since TikTok promotes good content, your viewers are going to need to finish your video and preferably even rewatch it, like it and leave a comment.
How to Create a Good TikTok
TikTokers use a number of tricks to ensure their swipers don't skip them.
Use engagement bait
Engagement bait is the act of incentivizing your viewers to leave a comment. For example, you can add a secret message that forces a rewatch. Some TikTokers will add a dumb remark so others will be forced to 'correct' them.
Keep it short
Watch time is one of the more important factors in the algorithm. If your TikTok is 40 seconds long but users swipe away in the first 10 seconds, your video will die very quickly.
Instead, if your TikTok is only 12 seconds long and every second is entertaining, your video will get promoted.
Use a hook
The first few seconds of your TikTok should contain an element that will force the viewer to watch until the end. This is called a hook.
---
Tips for TikTok as a Twitch Streamer
Turn your TikTok account into a Business Account
Turning your personal TikTok account into a business account is completely free and can be extremely helpful because it gives you access to analytics.
This way, you can keep track of all the demographics of your audience which will help you create better content.
Getting traffic from TikTok and sending them to Twitch isn't going to happen overnight.
You should consistently upload to your TikTok for the same reason you should consistently stream on Twitch.
Ideally, you would post at least once per day.
Your engagement on TikTok will depend highly upon the time of day that you post.
If your target audience is 14-18-year-olds and you post TikToks while they are at school, you will see a horrendous engagement rate, and your posts will never reach to For You page.
If instead, you post during high-activity hours, you will see the best possible engagement rate.
The best time of day to post on TikTok is between 7-10 PM. Your analytics can also help you find the best time to post.
Hashtags are easily forgotten these days because they don't really do much in terms of engagement on platforms such as Instagram and Facebook.
Who really looks up hashtags on these platforms…? No one.
This is very different for TikTok though!
TikTok users are constantly looking up new trends.
Adding hashtags can help users find your content more quickly.
Only add appropriate hashtags and don't spam them! Hashtags can also bite you in the butt if you don't use them correctly!
Imagine you upload a funny highlight from your Twitch stream and add the hashtag #digitalmarketing (simply because it's a popular hashtag).
This might seem harmless but it's not. After all, your video has nothing to do with digital marketing.
So viewers looking for digital marketing will skip your video and this will hurt your rankings!
Take a look at the competition
The best way to learn how to create good TikToks is to spend a lot of time on TikTok.
Hanging around the For You page will give you a good idea of what kind of content works for others.
Ideally, you'll pay attention to creators within your niche.
What are other Twitch streamers posting on TikTok?
Take notes from their content and try to create your own spin.
Constantly improve your TikToks
TikTok is a platform where users are constantly swiping between clips.
If your clip isn't entertaining, people will just swipe to the next clip and your TikTok will be buried.
Every time one of your TikToks doesn't perform well, take a minute to look at what went wrong.
Is your clip entertaining enough? Does it force people to stick around to the end? Why is no one commenting?
You don't want to slack off on TikTok. Every video you post is an opportunity to learn what you're doing wrong and make changes in the next.
Before you know it, you will have a TikTok that goes viral!
---
TikTok, thanks to its amazing discovery system, offers one of the best ways to funnel to your Twitch stream.
If you want to grow on Twitch, TikTok is one of the best platforms to focus on!
This article should have taught you everything you need to know on how to upload Twitch highlights to TikTok.
---
Read more Guides
At streamerfacts, we have lots of free streamer guides at your disposal!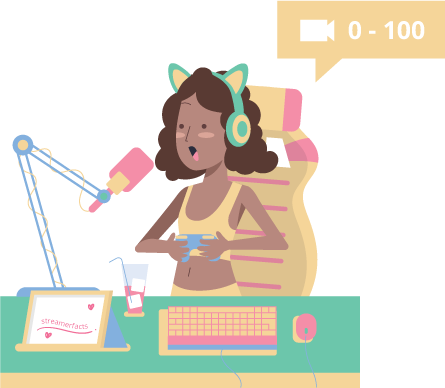 Our guides cater to all levels of streamers. You can start off from 0 or pick up on your way to make Partner! 🏆