Last Updated on 01/02/2023 by Dean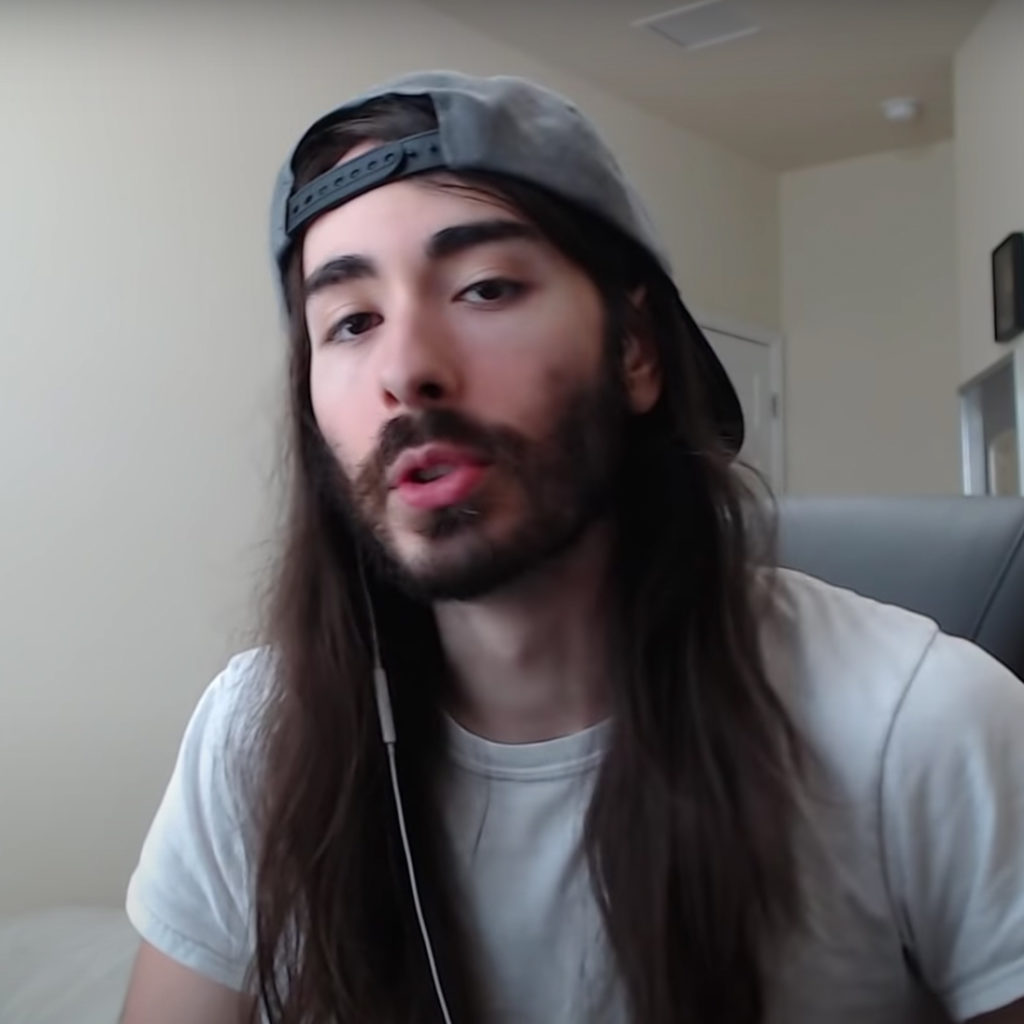 Interested to know what type of gear MoistCr1tikal uses in his streaming setup? In this article, we'll take a look at every piece of equipment Moistcr1tikal uses (at least the ones we could find!)
We aim to update our stream setup articles every 3 months, if the info is outdated don't be afraid to contact us and we'll update it!
As an Amazon Associate, I earn from qualifying purchases.
MoistCr1tikal Gear Setup
💰 How much is Moistcr1tikal worth? 👉 Check out Moistcr1tikal's net worth.
What microphone does Moistcr1tikal use?
The Audio Technics AT2020 is a budget microphone that is favored by Twitch streamers of all levels. Due to its price point, it can be seen as an 'entry-level' microphone making it very beginner friendly. However, this microphone should not be underestimated as it has been used by plenty of top-tier creators on Twitch.
If you've watched any of Charlie's streams, you'll notice that this microphone does a good job. It also doesn't have to be sitting near your mouth as closely as a Shure SM7B does.
This microphone comes in two options: XLR and USB. Moistcr1tikal uses the USB version. Usb is slightly more expensive but a lot easier to setup with the downside that you have a lot less control over audio quality.
⚠️ If you plan to get the AT2020 XLR VERSION, know that you will need a mixer as well. The XLR version won't work without a mixer. The most popular choice for streamers is the GOXLR Mini. It's affordable, easy to use, and doesn't take up a lot of space. Additionally, the sliders are super convenient for controlling the audio levels of your live stream.
---
What keyboard does Moistcr1tikal use?
We had to do some real digging to find Penguinz0's keyboard. Just like much of his streaming setup, he doesn't reveal any peripherals that he uses. We did however manage to find him showing off his keyboard on stream.
This is the keyboard he showed on stream: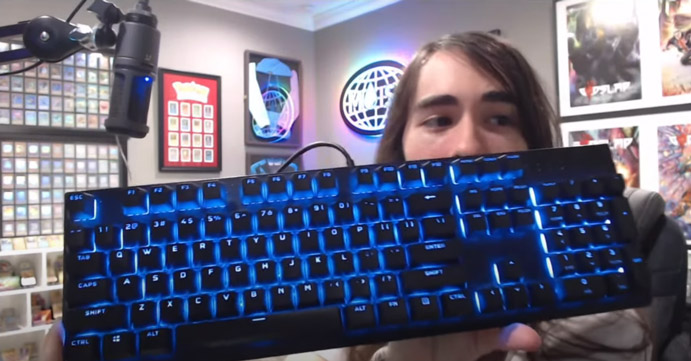 After doing some more digging, we came to discover that this was the Corsair K60. Yet another affordable piece of gear to finish off Moistcr1tikal's budget-friendly gaming setup.
---
What mouse does Moistcr1tikal use?
Charlie has been rocking the Logitech G502 for years now. This wired mouse is a great budget mouse by my favorite mice company: Logitech. It comes with the 25K HERO sensor that you will also find in Logitech's higher-tier gaming mice. Additionally, this mouse has 11 programmable buttons, on-board memory, and RGB lighting in an ergonomic package.
If you are in the market for a new mouse and don't mind a wired version, the G502 is a steal right now.
---
What chair does Moistcr1tikal use?
Moistcr1tikal's doesn't sit on your classic racing-seat gaming chair. Instead, he seems to prefer office chairs. Currently that seems to be the Serta Air Executive chair which can be picked up on Amazon for almost half the price of a Secret Lab gaming chair.
Don't expect any fancy features though.
Previously, Charlie used the Ikea Milberget chair. He hasn't been seen in this chair for well over 2 years though.
---
What headset does Moistcr1tikal use?
Moistcr1tikal uses Apple Earbuds as his gaming headset
As you may have figured out by now, Charlie does things a bit differently from your average streamer. He doesn't seem to use a headset and instead prefers to use earbuds on stream. His go-to choice seems to be the classic Apple Earbuds.
---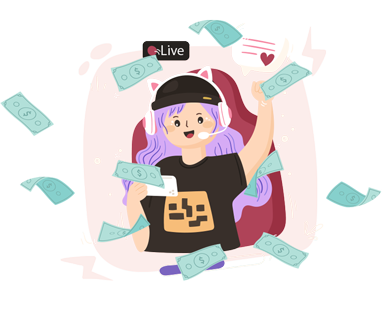 Want to know how much Moistcr1tikal makes?
We've collected intel on Moistcr1tikal income from Twitch, Youtube, and other sources!
---
Moistcr1tikal uses a dual-pc stream setup. This means that he has 2 pc's running at the sam time while he is streaming on Twitch. One is running the video game (aka the Gaming PC) and the second (Streaming PC) is recording the footage of that PC through a capture card to stream it on Twitch simultaneously.
This makes it so that Charlie can play games in the highest quality without losing any kinds of frames and stream simultaneously.
Here are his two PC setups:
Charlie's gaming PC was featured in a video from Artisan Builds.
Moistcr1tikal Streaming PC
Charlie's streaming PC was also featured in a video from Artisan Builds.
Wrap up: Moistcr1tikal Stream Setup
That's all the information we found on Charlie's Streaming Setup. Surprisingly, Moistcr1tikal's setup is VERY budget friendly. His mouse, keyboard, and microphone together can be picked up for under $300. This is very different from other streamers who tend to spend nearly $1k (sometimes more) on the microphone setup alone.
In case something is missing or needs updating, feel free to let us know! We aim to keep these STREAM SETUP articles as updated as possible.
Check out our other streaming equipment articles below or continue reading more of your favorite streamers' setups.
Best Streaming Equipment in 2022
Are you reading this article because you're looking to upgrade your streaming/gaming setup? We got you covered!
In a separate guide, we've collected the best streaming equipment you can find for EVERY budget. Whether you're looking for an entry-level, intermediate, or professional streaming setup, we've done the heavy lifting for you!
You can also navigate some of our buying guides:
More streamer Setups