Last Updated on 01/16/2023 by Dean
Interested to know what type of gear MoonMoon uses in his streaming setup? In this article, we'll take a look at every piece of equipment MoonMoon uses (at least the ones we could find!)
We aim to update our stream setup articles every 3 months, if the info is outdated don't be afraid to contact us and we'll update it!
As an Amazon Associate, I earn from qualifying purchases.
MoonMoon Gear Setup
💰 How much is MOONMOON worth? 👉 Check out MOONMOON's net worth.
What microphone does MOONMOON use?
For his audio setup, MOONMOON uses a simple AT2020 USB plug-and-play microphone. So if you like MoonMoon's sound quality, you'll be happy to know this is a budget setup! No fancy Shure SM7B microphone with an expensive audio interface. Just a simple USB microphone that rivals the Blue Yeti.
---
What gaming mouse does MOONMOON use?
Many Twitch streamers opt for Logitech Gaming Mice and MOONMOON is no different. His weapon of choice is the Logitech G502 which looks like a classic wireless gaming mouse with 11 programmable buttons. It features Logitech's impressive 25K HERO sensor, RGB lighting and up to 60 hours of battery life!
---
What keyboard does MOONMOON use?
MOONMOON uses an EPOMAKER AKKO 3108-9009 Retro keyboard
MoonMoon has a custom keyboard from EPOMAKER. His 3108-9009 EPOMAKER AKKO has 108 keys and Cherry Blue Switches. You can't buy the 3108-9009 EPOMAKER AKKO anymore but you can find plenty of similar alternatives from EPOMAKER if you want to customize your own board or purchase a cool pre-built.
---
What monitor does MOONMOON use?
MOONMOON's monitor setup features a simple 24-inch ASUS VG248QE. This gaming monitor has a refresh rate of 144Hz, 1920 x 1080 resolution, built-in speakers, and an ergonomic stand.
---
What chair does MOONMOON use?
For his seat of choice, MOONMOON sits on a Steelcase Leap V2 office chair. This office chair has a classic look and is quite popular on Amazon. The Leap V2 is an older model and has been redesigned into the newer Steelcase Series 2.
This ergonomic chair has an adjustable seat depth, fully adjustable arms, adjustable lumbar support, pneumatic seat height adjustment, recline tension adjustment and other features that you won't find on a classic gaming chair. It's designed to rival Herman Miller products at a lower price point.
---
What headset does MOONMOON use?
The Sennheiser HD 650 is designed with audiophiles in mind. This isn't necessarily a gaming headset, but it does boast some phenomenal audio that extends far beyond just gaming. If you're an audiophile looking for a premium headset, the Sennheiser HD 650 comes highly recommended.
---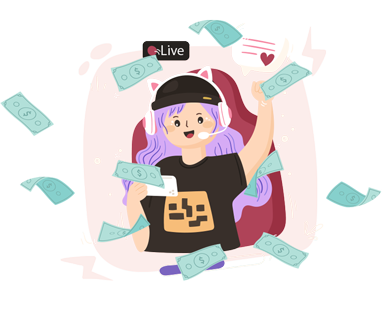 Want to know how much MOONMOON makes?
We've collected intel on MoonMoon's income from Twitch, Youtube, and other sources!
---
Wrap up: MOONMOON Stream Setup
That's all the information we found on MOONMOON's Streaming Setup.
All of the information is sourced from MOONMOON's Nightbot on Twitch where he shares information about his gear & Pc Specs.
In case something is missing or needs updating, feel free to let us know! We aim to keep these STREAM SETUP articles as updated as possible.
Check out our other streaming equipment articles below or continue reading more of your favorite streamers' setups.
Best Streaming Equipment in 2023
Are you reading this article because you're looking to upgrade your streaming/gaming setup? We got you covered!
In a separate guide, we've collected the best streaming equipment you can find for EVERY budget. Whether you're looking for an entry-level, intermediate, or professional streaming setup, we've done the heavy lifting for you!
You can also navigate some of our buying guides:
More streamer Setups