Last Updated on 01/11/2023 by Dean
Interested to know what type of gear RanbooLive uses in his streaming setup? In this article, we'll take a look at every piece of equipment Ranboolive uses (at least the ones we could find!)
We aim to update our stream setup articles every 3 months, if the info is outdated don't be afraid to contact us and we'll update it!
As an Amazon Associate, I earn from qualifying purchases.
RanbooLive Gear Setup
💰 How much is RanbooLive worth? 👉 Check out RanbooLive's net worth.
What microphone does RanbooLive use?
Like most streamers and YouTubers these days, RanbooLive uses the Shure SM7B microphone. It's popular, but the audio speaks for itself. And you have to love the sleek black design.
It comes at a steep price point though. Not to mention that this microphone is NOT plug-and-play and requires additional purchases such as an Audio Interface and XLR cable to get it to work. Oh, and it doesn't come with a mount, which you also have to purchase.
We don't have any insights into what Audio Interface RanbooLive uses but it is likely to be either a GOXLR mini or Scarlet 2i2 both of which are popular amongst streamers, affordable, and easy to set up.
---
What microphone stand does RanbooLive use?
While we may not know which Audio Interface RanbooLive uses, we do know which microphone stand he is rocking on his Shure SM7B. It's none other than the Rode PSA1 which has become an industry standard amongst live streamers and YouTubers.
---
What chair does RanbooLive use?
RanbooLive has a custom DXRacer chair
As a bit of a recurring meme on RanbooLive's Twitch streams, he has a customized DXRacer chair with a unicorn face printed on it.
RanbooLive doesn't always use this chair though as he is also frequently seen sitting in a classic black office chair.
---
What headset does RanbooLive use?
If you were wondering about the black headset with light-up logo RanbooLive is wearing lately on stream, it's none other than the Corsair Virtuoso. This wireless headset has 7.1 surround sound, 15-hour battery life, memory foam earcups and can be used on PC, PS4/PS5 as well as Xbox consoles.
While the battery life might be a little lacking, it can be used while plugged in so one never has to worry about running out of battery. (Besides as long as you charge at night, you should never run out)
---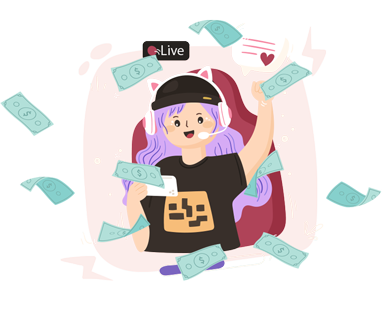 Want to know how much RanbooLive makes?
We've collected intel on RanbooLive's income from Twitch, Youtube, and other sources!
---
Wrap up: RanbooLive Stream Setup
Sadly, we don't know much about Ranboolive's streaming setup. He doesn't seem to share much info on his peripherals so we had to limit our research to products that are visible on stream such as his microphone, mic arm, headset, and chair!
In case something is missing or needs updating, feel free to let us know! We aim to keep these STREAM SETUP articles as updated as possible.
Check out our other streaming equipment articles below or continue reading more of your favorite streamers' setups.
Best Streaming Equipment in 2022
Are you reading this article because you're looking to upgrade your streaming/gaming setup? We got you covered!
In a separate guide, we've collected the best streaming equipment you can find for EVERY budget. Whether you're looking for an entry-level, intermediate, or professional streaming setup, we've done the heavy lifting for you!
You can also navigate some of our buying guides:
More streamer Setups