Last Updated on 01/02/2023 by Dean
Interested to know what type of gear Trainwreckstv (Tyler) uses in his streaming setup? In this article, we'll take a look at every piece of equipment Tyler uses (at least the ones we could find!)
We aim to update our stream setup articles every 3 months, if the info is outdated don't be afraid to contact us and we'll update it!
As an Amazon Associate, I earn from qualifying purchases.
Trainwreckstv Gear Setup
💰 How much is Trainwreckstv worth? 👉 Check out Trainwreckstv's net worth.
What microphone does Trainwreckstv use?
Following suit of most streamers on Twitch, Trainwreckstv uses the coveted Shure SM7B microphone.
This microphone has everything a streamer should need (and much more) at a steep price point. Additionally, it is a barebones product and requires supplementary products to work such as an Audio Mixer, Boom Arm and even XLR cable which isn't included in the box.
Other than that, one can't complain though. This is one of the best microphones on the market. Considering the built quality, it will last a lifetime. It looks clean and makes any streamer sound like a radio host without needing to treat their room.
Supplementary purchases
You can't plug a Shure SM7B into your computer and expect it to work. It doesn't work on USB, it's powered by an XLR cable. This cable needs to be fed through an Audio Interface (mixer) to work properly. Furthermore, the Shure SM7B does not come with any type of stand so the purchase of a boom arm is also required.
---
What keyboard does Trainwreckstv use?
One will have a hard time finding a Razer Blackwidow Ultimate these days as they are no longer being sold. If we have to believe Tyler himself, he still uses this keyboard to this day and we have no reason to believe otherwise as he never really showcases or talks about his gaming gear.
If you wanted a similar keyboard to Trainwreckstv, we recommend you opt for the newer Razer Blackwidow V3 or the Razer Huntsman instead as these are part of Razer's brand new lineup and will fit you much better than the aged Razer Blackwidow Ultimate that Tyler rocks.
---
What mouse does Trainwreckstv use?
We run into the same problem with Trainwreckstv's gaming mouse. Tyler has us believe he uses the outdated Steelseries Rival 300 gaming mouse. And if it still works, why switch right? It's not on the market anymore though.
If you want a similar product, don't fret, you can get the Steelseries Rival 3 instead which is the new and updated model.
---
What monitor does Trainwreckstv use?
According to his Twitch Bio, Trainwreckstv uses the Acer KG271 gaming monitor. This is a 144Hz gaming monitor. This refresh rate is good enough to play games such as Overwatch 2 without being disadvantaged. However, pros will opt for a 240Hz monitor instead. Since Trainwreckstv isn't a pro gamer, this is more than sufficient.
---
What headset does Trainwreckstv use?
The black wireless headset you see on Tyler's head is none other than the Astro A50s. These have been around for a long time and for good reason: they look good, the sound quality is great and they don't break.
I would know, I bought Astro A40s (the wired version) more than 10 years ago and still use them today as they simply won't die and the sound quality back then was ahead of its time.
The wireless versions have a docking station, 15 hours of battery life, on-board controls, and Astro V2 sound. A phenomenal product built to last years for a fittingly steep price.
---
What chair does Trainwreckstv use?
Tyler uses an XRocker Gaming chair
XRocker is a chair company that makes gaming chairs with a similar design and price tag to DXRacer.
---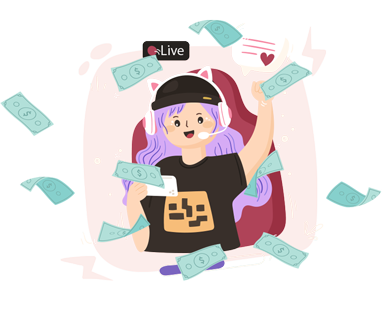 Want to know how much Trainwreckstv makes?
We've collected intel on Tyler's income from Twitch, Youtube, and other sources!
---
Wrap up: Trainwreckstv Stream Setup
That's all the information we found on Tyler's Streaming Setup. In case something is missing or needs updating, feel free to let us know! We aim to keep these STREAM SETUP articles as updated as possible.
Check out our other streaming equipment articles below or continue reading more of your favorite streamers' setups.
Best Streaming Equipment in 2022
Are you reading this article because you're looking to upgrade your streaming/gaming setup? We got you covered!
In a separate guide, we've collected the best streaming equipment you can find for EVERY budget. Whether you're looking for an entry-level, intermediate, or professional streaming setup, we've done the heavy lifting for you!
You can also navigate some of our buying guides:
More streamer Setups