Last Updated on 11/21/2022 by Dean
'Any Primers' or 'Twitch Prime Subs' frequently come up during Twitch streams.
But what are Twitch Prime Subs? And how can you get them?
In this article, we will take a look at what exactly Twitch Prime Subs are, how you can get access, and how you can subscribe with them.
Let's start with the basics…
Before I can explain Twitch Prime Subs, you first need to have a basic understanding of the subscription model on Twitch as well as what Amazon Prime is.
If you already know these things [click here] to skip this part.
What is a Twitch Subscription?
On Twitch, viewers can PAY to SUBSCRIBE to their favorite streamer. This gives them access to certain benefits such as ad-free watching, subscriber-only emotes, and a subscriber badge.
Subscriptions on Twitch require a recurring monthly payment of $4.99. Of course, this can be canceled every month.
When canceling a subscription, the subscriber will lose their sub-badge as well as the ad-free watching privilege. They get to keep the subscriber-only emotes. Which btw, works everywhere on Twitch. Pretty cool!
What is Amazon Prime?
Amazon Prime is a subscription service for Amazon that is used by over 150 million people in the US alone.
For $14.99/mo, Amazon Prime Members get access to:
FREE, expedited shipping (same day, 1-day, 2-day)
Full Access to Prime Video Streaming (Netflix competitor)
Full Access to Prime Gaming (including Twitch Prime)
Exclusive deals
and more…
Alternatively, one can also subscribe to the lower-priced Prime Video Subscription which includes the streaming platform as well as Prime Gaming (which includes Twitch Prime).
What is a Twitch Prime Sub?
Twitch Prime allows viewers to link up their Twitch account with their (or their moms, not judging) Amazon Prime Subscription.
Once linked up, the viewer will have one FREE monthly Twitch subscription which they can use on any streamer they want!
This free monthly Twitch Prime Subscription includes ALMOST every benefit that a regular Twitch Subscription has including:
Subscriber-only emotes
Subscriber badge in chat
⚠️ As of 2018, Twitch Prime Subscribers NO LONGER receive ad-free watching on the channel that they subscribe to.
A great side feature is that Twitch Prime allows you to support your favorite streamer, without actually spending any money.
How to link Amazon Prime with Twitch
Do you already have a subscription to Amazon Prime or Prime Video and want to subscribe using Twitch Prime?
Here's how…
First, navigate to gaming.amazon.com.
You should already be logged into Amazon, if not, log in using your Amazon account credentials.
Then, select 'link Twitch Account' and log in using your Twitch credentials.
Once logged in, select 'Activate Prime Gaming'.
That's it! You now have full access to Prime Gaming including access to exclusive in-game items as well as Twitch Prime.
---
How to subscribe for FREE using Twitch Prime
Want to use your free Twitch Prime subscription? Here's how…
First, make sure your Amazon and Twitch are linked up. [click here]

Next, navigate to your favorite streamer on Twitch.


Hit the purple subscribe button.

In the pop-up, scroll down to where it says 'Free Subscription with Prime' and hit the purple box to subscribe for free.

TIP: Wait for the streamer to go live to subscribe to them. They will likely thank you for your prime subscription.
How to subscribe with Twitch Prime on Mobile (iPhone/Android)
Subscribing using Twitch Prime doesn't work on the mobile Twitch app for iPhone or Android phones.
The reason you can't subscribe on an iPhone using Twitch Prime is because Apple takes a cut from the earnings through the Twitch App on iPhone. Apple cannot take a cut from Twitch Primes, therefore the feature isn't allowed in the Twich App on iPhone.
However, there is a work around. It involves using your mobile browser instead of the app.
Open Safari (on iPhone) or Google (on Android) and head over to Twitch.tv.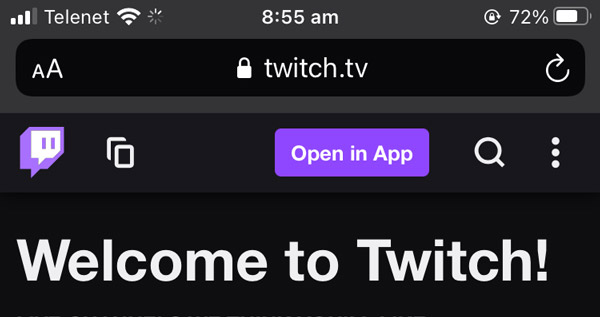 You will automatically be taken to the mobile site (indicated by the m in front of twitch.tv). Undo this by tapping the Aa button on iOS or the three dots on Android. Select Request Desktop Website. This will overwrite the mobile site and give you the desktop version instead.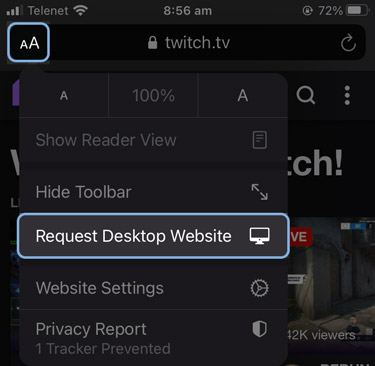 Next, log in to your Twitch account.
Go to your favorite streamer and hit the purple subscribe button.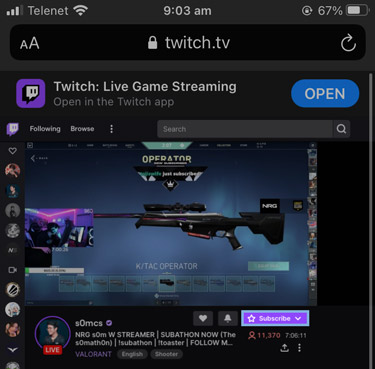 In the pop-up window, you'll find a check box at the bottom that reads 'Use Prime Sub' check that and confirm by hitting the purple button.
TA-DA! You are now subscribed on mobile using Twitch Prime.
How to resub with Twitch Prime
Currently, you cannot automatically resub using Twitch Prime.
If you want to resubscribe using your Twitch Prime you will have to do it manually.
Once your subscription has ended, simply subscribe again using your Free Prime Sub.
As long as you don't skip a month, you will not lose your subscriber badge when resubbing with Twitch Prime.
---
Twitch Prime is keeping Twitch in the #1 position
Twitch Prime subscriptions make up a large part of the subscribers that Twitch streamers have.
This is because SO many people have an Amazon Prime subscription. According to Statista, 200 million people worldwide are subscribed to Amazon Prime. That is A LOT of potential FREE subscribers for Twitch Streamers.
We highlighted this fact in our Twitch vs YouTube article. One big reason why YouTube is struggling to steal so many streamers from Twitch is that Twitch is more profitable for streamers.
Twitch has the advantage of having Twitch Prime subscribers which allows viewers to subscribe for free. But this doesn't change anything for the streamer, they still get paid the exact same amount they would from a regular subscriber.
Here's how much streamers earn from Twitch Prime subs…
In our Net Worth report for Ibai, we found out that 46% of his 47,752 monthly subscribers are subscribed through Twitch Prime. If Twitch Prime weren't a thing, Ibai would be missing out on 21,965 subscribers or $76,877 per month.
When reporting on xQc's net worth, we found out that 42.4% of his 83,565 monthly subscribers are Twitch Primes. Without Twitch Prime Subs, xQc would be missing out on 35,470 monthly subs or $124,145 per month.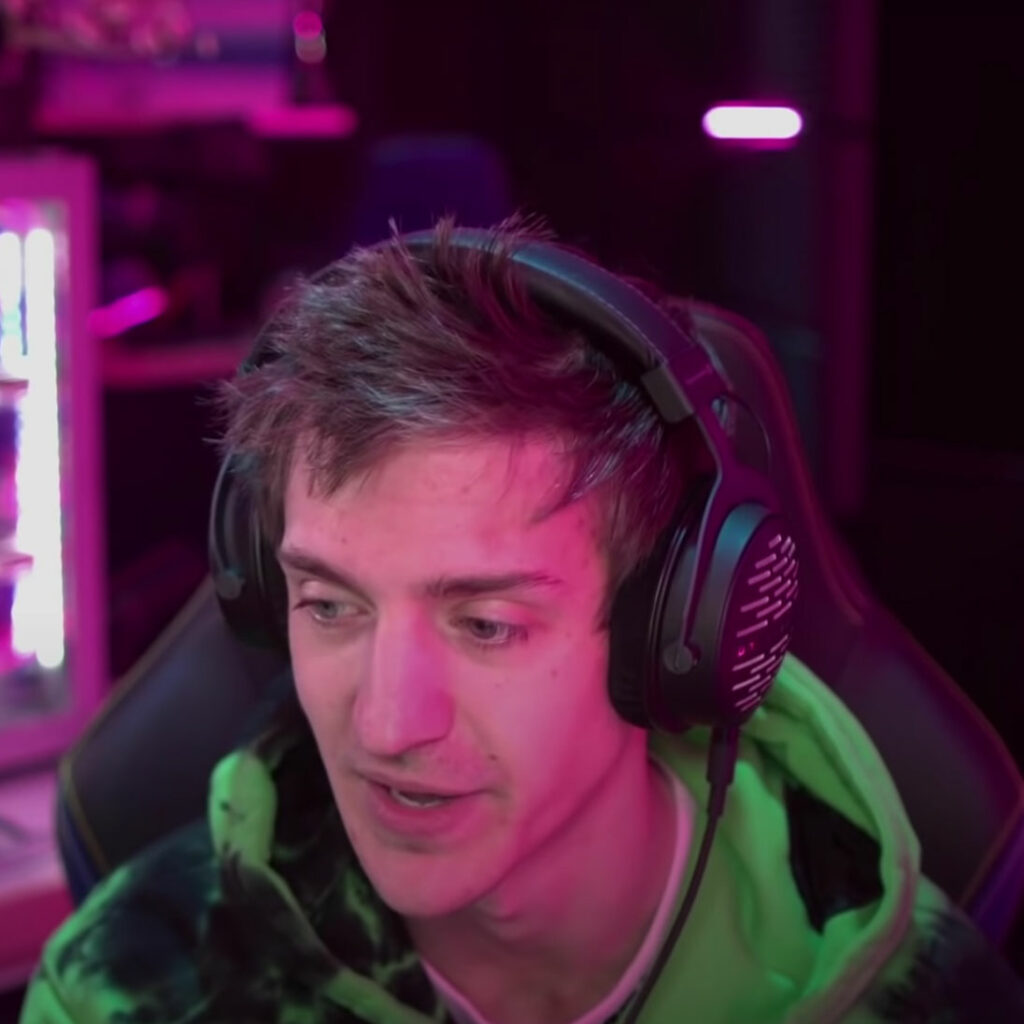 42.4% of Ninja's subscribers are Twitch Prime Subscribers. Ninja has 8,000 monthly subscribers and would miss out on 3,392 subscribers or $11,872 per month if not for Twitch Prime.
Most high-profile streamers we report on tend to have 40% of their subs be from Twitch Prime.
That's an enourmous share. Especially when you consider that most streamers make a sizeable chunk of their monthly revenue from Twitch Subscriptions.
Prime Subs are a big reason why many streamers still stick to Twitch. And why we recommend small streamers to stream on Twitch instead of YouTube.
How much do streamers keep per Twitch Prime sub?
A streamer keeps just as much from a Twitch Prime sub, as they would from a regular tier-1 subscription on Twitch.
The actual outcome depends on their revenue split with Twitch. Most streamers keep 50% of their earnings on Twitch.
So a Twitch Prime sub would leave them with $2.50.
Larger streamers who have negotiated a higher sub split, keep 70% of their earnings or $3.50 per Twitch Prime Sub.
👉 Want to know more? This article will tell you all about Twitch's weird Revenue Split system.
Do Streamers prefer regular subs or Twitch Prime subs?
Most streamers have no preference between regular or Twitch Prime subscriptions.
Regular subscriptions are recurring payments, naturally, some will prefer those over Twitch Prime.
However, Twitch Prime subscribers are more likely to re-subscribe as their subscription is actually free for them as opposed to regular subscribers, who might only want to subscribe for a single month.
One can also only get one Amazon Prime subscription per month, so a streamer should feel honored to receive that one free subscription.
---
How long do Twitch Prime subs last?
Twitch Prime subscriptions last for a single month. They don't automatically renew so you will have to re-subscribe every time to keep your subscriber benefits.
Why is Twitch Prime a thing?
Twitch is owned by Amazon, this is why twitch viewers who have an Amazon Prime subscription can subscribe on Twitch for free. While it is true that they lose a small amount of money every time someone uses a Twitch Prime sub, that money is quickly recovered by serving ads to the viewer. (Which is one of the reasons Amazon removed ad-free watching from Twitch Prime)
Is Twitch Prime ad-free?
Twitch Prime is no longer ad-free. Previously, Twitch Prime included everything that a regular tier-1 subscription included on Twitch. This was later changed in 2018 to remove ad-free watching.
Is Twitch Prime the same as Amazon Prime?
Twitch Prime is one of the features that is included in an Amazon Prime Subscription. Once you sign up for Amazon Prime, you have access to free shipping, Prime Video, Prime Gaming, and Twitch Prime.
Is Twitch Prime included in a Prime Video subscription?
Twitch Prime is also included in the discounted, Prime Video subscription.
---
Wrap up
That's everything you need to know about Twitch Prime Subscriptions. Twitch Prime allows viewers with an existing Amazon Prime or Prime Video subscription to subscribe to their favorite streamer free of charge.
Twitch Prime Subscriptions are hugely profitable for streamers on Twitch of all sizes. For this reason, Twitch continues to be the top streaming platform.