Last Updated on 01/02/2023 by Dean
Interested to know what type of gear Wardell uses in his streaming setup? In this article, we'll take a look at every piece of equipment Wardell uses (at least the ones we could find!)
We aim to update our stream setup articles every 3 months, if the info is outdated don't be afraid to contact us and we'll update it!
As an Amazon Associate, I earn from qualifying purchases.
---
What microphone does Wardell use?
Unsurprisingly, Wardell uses the Shure SM7B microphone to get the best possible audio for his Twitch stream. You've surely seen the SM7B before as it is the most used microphone amongst top streamers on both Twitch and YouTube.
This microphone has a timeless black design, sturdy built-quality and amazing sound quality. For a premium price, you get a professional microphone that will last a lifetime.
Its cardioid polar pattern allows streamers to have phenomenal sound quality without any background noise. You can find out more about the Shure SM7B here.
---
What microphone stand does Wardell use?
A Shure SM7b can't stand on its own and requires a microphone stand. For this, Wardell has opted for the Rode PSA1 which is the #1 choice for other streamers as well. A flexible, sturdy arm in a sleek black design, what more could you want in a boom arm?
---
What monitor does Wardell use?
Being an FPS gamer, Wardell needs the best of the best when it comes to his gaming monitor. He found that as many others have, in the BenQ Zowie XL2546. This is by far the most used gaming monitor amongst the top of any FPS game due to its high-refresh-rate (240Hz) and big name in the gaming scene.
If you are a serious gamer and don't mind the retro look in a gaming monitor, the BenQ Zowie XL2546 is the choice for you.
---
What mouse does Wardell use?
If you look at any list which covers mice amongst Valorant pros, you'll find that the Logitech G Pro Superlight is most commonly used. It is thus unsurprising that Valorant Pro Wardell uses this mouse as part of his gaming setup.
The G Pro Superlight is extremely lightweight, wireless, and has a phenomenal sensor with almost next to no delay. It's a gamechanger that even beats out wired mice.
I use this mouse myself and have nothing but love for it (though the software isn't that great).
---
What keyboard does Wardell use?
The Loigitech G Pro X keyboard is an affordable keyboard that is designed with FPS games in mind. It features a tenkeyless design which is great for streamers who want to keep their desks neat.
It has RGB backlighting, a detachable USB cable, and GX Blue Click switches. Of course its compact design makes it very portable and easy to take to LAN parties as well as tournaments.
---
Which headset does Wardell use?
To complete his Logitech peripheral setup, Wardell uses the Logitech G Pro headset. This headset comes in at a nice price point for its features. It also has a sleek design that I'm sure Wardell appreciates. Of course, being a gaming headset it features 7.1 surround sound as well as it is noise canceling. The earcups are made from soft memory foam for a comfortable fit on your head.
---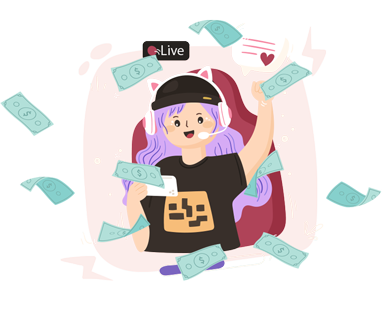 Want to know how much Wardell makes?
We've collected intel on Wardell income from Twitch, Youtube, and other sources!
---
Wrap up: Wardell Stream Setup
That's all the information we found on Wardell Streaming Setup. In case something is missing or needs updating, feel free to let us know! We aim to keep these STREAM SETUP articles as updated as possible.
Check out our other streaming equipment articles below or continue reading more of your favorite streamers' setups.
Best Streaming Equipment in 2022
Are you reading this article because you're looking to upgrade your streaming/gaming setup? We got you covered!
In a separate guide, we've collected the best streaming equipment you can find for EVERY budget. Whether you're looking for an entry-level, intermediate, or professional streaming setup, we've done the heavy lifting for you!
You can also navigate some of our buying guides:
More streamer Setups