Last Updated on 08/31/2021 by Dean
Making money by broadcasting video games from your bedroom.
This concept sounds unreal, impossible, and like a dream to many. And still, it is a reality for tens of thousands of live streamers who broadcast to thousands of viewers directly from their bedrooms.
And some do it way before they even turn 18 years old. For example, 16-year-old streamer Clix broadcasts his Fornite games to over 15,000 viewers whenever he goes live and makes more than $70,000 per month from his Twitch stream.
Some of the top streamers on the platform, make much more than that.
What is a streamer?
A streamer is someone who broadcasts themselves on websites such as Twitch, YouTube, and even Facebook.
While the majority of streamers broadcast video games to a live audience, plenty of them host other types of live streams such as dancing streams, singing streams, political talk streams, fitness streams, and more.
Streaming can be seen as a simple hobby, but for many creators, it is a full-time job.
How many people watch live streams?
Over 3.8 million concurrent viewers are watching live streams at all times across the 3 major platforms: Twitch, YouTube, and Facebook.
Twitch is the industry leader when it comes to live streaming with over 2.5 million concurrent viewers and nearly 100,000 broadcasters live at all times. (source: Twitch Tracker).
YouTube Gaming is the runner-up with over 700,000 concurrent viewers at all times. (source: Statista)
Facebook Gaming claims the third position with over 600,000 concurrent viewers at all times and is closing in on YouTube's position as the number 2 streaming platform. (source: Streamcharts)
Read also: Twitch Statistics, Demographics & Growth in 2021
What is Twitch and why is it so popular?
Twitch.tv, which started of as a site called Justin.tv, named after its founder, Justin khan, was one of the first major streaming sites and essentially popularized the streaming industry.
Justin.tv launched on March 19, 2007, and eventually became Twitch Interactive in February of 2014.
Back then, Twitch was considered a streaming platform for video games only and this allowed them to piggyback from the rising popularity of the video game industry.
As gamers from all over the world sought content related to the newest video games, they discovered Twitch which brought a novel approach to consuming and delivering video game content.
And thus, Twitch became the place to be for video game live streaming.
These days, Twitch has expanded way beyond just video games as the IRL Just Chatting category makes up almost 20% of its concurrent daily viewer base.
Twitch is popular not just because of the name they have, but also the community they have built over the years.
How do Streamers make money?
Streamers make money through their viewer base both directly and indirectly.
Streaming platforms such as Twitch, Youtube, and Facebook allow viewers to subscribe to their favorite streamers and pay them a monthly sum in exchange for exclusive benefits.
These subscriptions make up the majority of income for many streamers.
Other income sources include fan donations, advertisements, and brand sponsorships.
Some streamers will supplement their income with the sale of exclusive merch as well.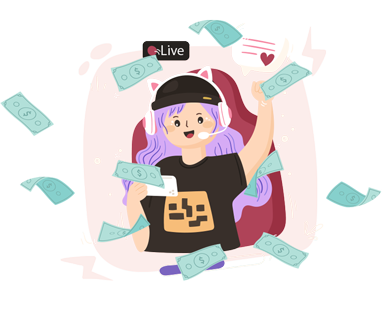 How much do streamers make?
Smaller and medium-sized streamers can make anywhere from $2000 to $30,000 per month while some top-tier streamers make over $200k per month.
How can you start streaming?
Anyone can start broadcasting from their bedroom, that's the beauty of live streaming.
If you want to start streaming, here's what you're going to need.
Step 1: Choose a streaming Platform
As mentioned before, there are three main streaming platforms: Twitch, YouTube, and Facebook.
Streaming on each of these platforms is completely free and they each come with their pros and cons.
We recommend that you start streaming on Twitch.
Also interesting: Youtube vs Twitch
Step 2: Pick a streaming software
In order to live stream, you need broadcasting software.
Luckily, these platforms are also free of charge.
We recommended two platforms: OBS Studio and Streamlabs OBS.
Streamlabs OBS is more beginner-friendly but OBS Studio takes up fewer resources on a PC.
Also interesting: Streamlabs OBS vs OBS Studio
Step 3: Check your internet connection
When live streaming, you are sending data from your computer to your streaming platform.
In order for this to run smoothly, you're going to need a decent, stable internet connection and a good upload speed.
We recommend that you only stream from a wired connection and make sure you have an upload speed of at least 3 Mbps.
Continue reading: What upload speed is required for streaming?
Step 4: Get the right equipment
A streamer is going to need the following gear:
You'll need at least 8GB of RAM (preferably 16GB) on a streaming PC to stream video games alongside a decent CPU and GPU. Check out our budget PC guide for more info.
Any webcam will do to start out and you can even use your phone as a temporary solution.
Viewers value audio quality a lot so you're going to need a decent external microphone. You can find a budget microphone for under $50.
Continue reading: best equipment for streamers for all budgets