Last Updated on 01/02/2023 by Dean
This is a comprehensive guide on how to set up stream alerts for Twitch, YouTube, and Facebook.
This guide will help you set up alerts for both OBS Studio and Streamlabs.
If you don't already have streaming software installed, check out our Streamlabs vs OBS Studio article to help you make your decision.
⚠️ Beginner tip: pick Streamlabs. It's the most beginner-friendly software for Twitch streamers.
In this alert guide, we'll go over the two most popular alert services for streamers: Streamlabs and Streamelements.
Streamlabs
Streamlabs is kind of an all-in-one solution for streamers. They not only have the most beginner-friendly OBS software available, but the software also comes with built-in alerts.
This makes it easy to add alerts to your stream.
Streamelements
Streamelements offers a similar service to Streamlabs, minus the OBS software.
Many streamers prefer Streamelement alerts over Streamlabs because they are more customizable.
You can add Streamelements alerts to OBS Studio or Streamlabs through browser sources.
---
🤺 Streamlabs Alerts vs Streamelements Alerts
Streamlabs
👍 Alerts are built into SLOBS
👍 More hassle-free
👎 Paid features
Streamelements
👍 Alerts use up less CPU
👍 More customizability
👍 Preferred by the stream community
👎 Requires you to edit inside a browser
Many streamers have switched from Streamlabs to Streamelements because they offer more in terms of customizability and use up fewer resources on a PC.
So if you're running a budget PC setup, Streamelements is definitely the way to go.
Streamlabs also tend to show a little greed with their paid features which aggravates smaller hobbyists who make no real income from streaming.
👉 If you are using OBS Studio, Streamelements is a clear choice, hands down.
👉 If you are using Streamlabs OBS, use their built-in alerts first and see how they fare for you. You can always switch to Streamelements if you don't like the alerts or they slow down your PC too much.
---
⚙️ How to Set Up Alerts in Streamlabs
Want to set up alerts for Streamelements instead? [SKIP HERE]
Go to your Streamlabs Dashboard.
Log in using your platform (Twitch, YouTube or Facebook) if you don't already have an account.
Select AlertBox from the left sidebar.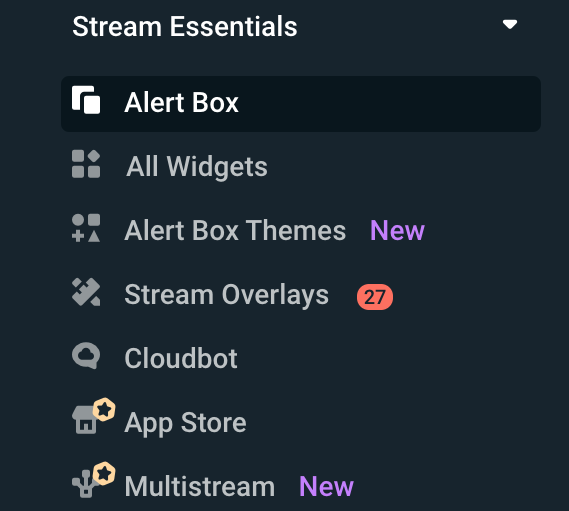 Alerts should be enabled by default. If they aren't, you can enable or disable alerts by clicking on the individual functions. (Follows, Subscriptions, Donations, etc)
You can play around with the Alert settings and customize them to your needs.
Upload Alertbox to Streamlabs OBS
To add the Alertbox in your Streamlabs OBS software, simply go to sources (bottom middle) and select Add AlertBox.
Add Streamlabs Alert to OBS Studio (optional)
If you want to insert Streamlabs Alerts into OBS Studio, you can do so using a browser source.
To do this, copy the Widget URL and add it as a Browser Source to OBS Studio.
---
⚙️ How to Set Up Alerts in Streamelements
Go to your Streamelements Dashboard. Log in if using your stream platform (e.g Twitch).
In the left sidebar, under Streaming Tools, Select My Overlays.
Choose NEW OVERLAY.
Inside the streamelements customizer, select ADD WIDGET > Alerts > AlertBox.
Uncheck any events you don't want to set an alert for. Click on the cog wheel ⚙️ to customize the alert.
Streamelements has many customization options including Text to Speech.
Once you're done customizing, press SAVE and copy the URL in the top right navigation bar using the attachment icon.
Next, go into your OBS Studio or Streamlabs OBS and add a browser source.
Give the browser source a name (e.g. Alert).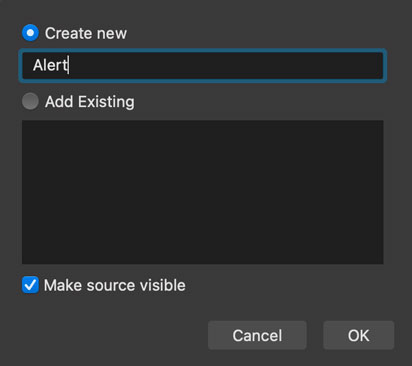 And finally, paste the URL.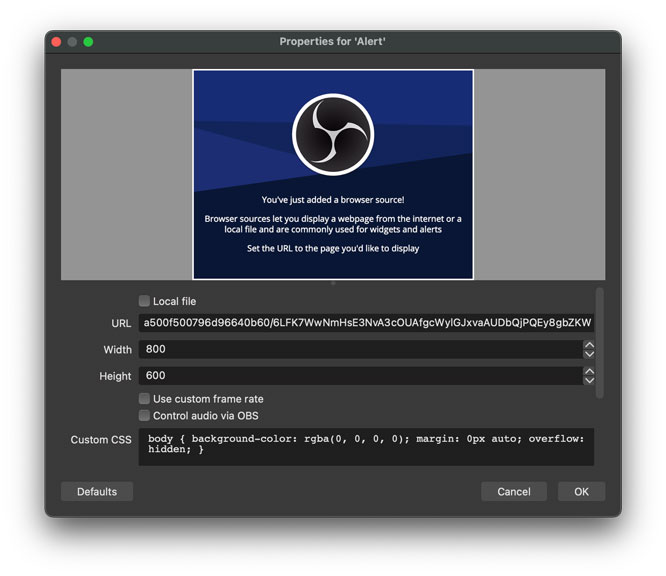 That's it! You can now add alerts using Streamelements.
💰 Set up Alerts for Donations
Want to learn how you can set up alerts for donations specifically?
We have a separate guide just for that! 👉 Go to our Donations Guide
---
🤩 How to Get FREE Custom Stream Alerts
Let's face it, most of us don't want to pay to add some fancy alert design to our Twitch stream, especially when we are just starting out.
Luckily, there are a bunch of free options out there available for both Streamlabs and Streamelements.
One site that offers these free downloads is NerdorDie. Here's how that works.
👉 Go here to shop for free alerts. Or navigate to Nerdordie.com and select Alerts.
Now you'll want to look for any of the alerts that have a free option available.
Boosted Alerts is a great example of a free alert for Twitch, Youtube, and Facebook Gaming.
Next, select the Free Version from the dropdown menu.
And Add to Cart.
Then, fill in your info (you can add a fake name and email if you're uncomfortable) and checkout.
You don't need to provide an address or card details because this offer is free.
Once that's done, you can download the file.
The download will contain installation files for both Streamlabs and Streamelements as well as a tutorial video in case you're at a loss.
---
🧐 How to Add Custom Alerts to OBS Studio
Once you've downloaded your custom alerts, select the Streamelements installation file and click on the version you need (Twitch, Youtube or Facebook).
This will take you to your Streamelements dashboard and create a new Overlay.
Click on the EDIT button, this will take you to the Streamelements Customizer.
Here, you can customize the alert to fit your needs.
Once you're done customizing, copy the alert URL by clicking the attachment icon in the top right navigation bar.
Now go into your OBS Studio and add a browser source.
Give it an appropriate title (e.g. Alert).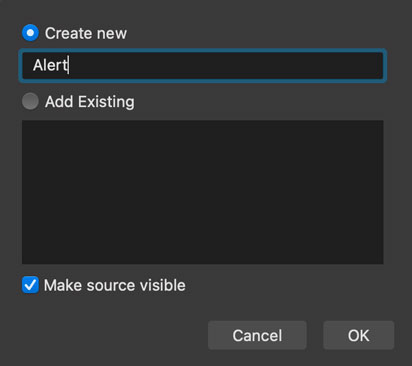 Paste the URL you just copied from the Streamelements customizer.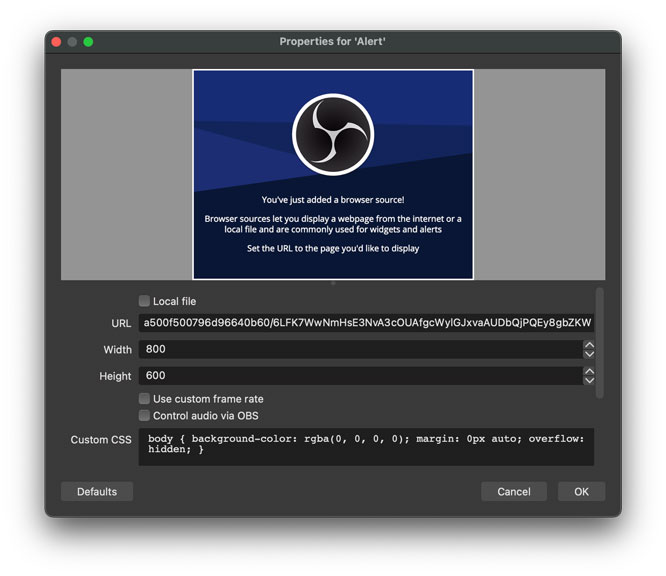 And you're done! Congratz! You now have a custom alert added to OBS Studio using Streamelements.
---
🧐 How to Add Custom Alerts to Streamlabs
Once you've download your custom alerts, select the Streamlabs Installation file and click on it.
This will take you directly to your Streamlabs dashboad.
Select Create a new Widget Theme.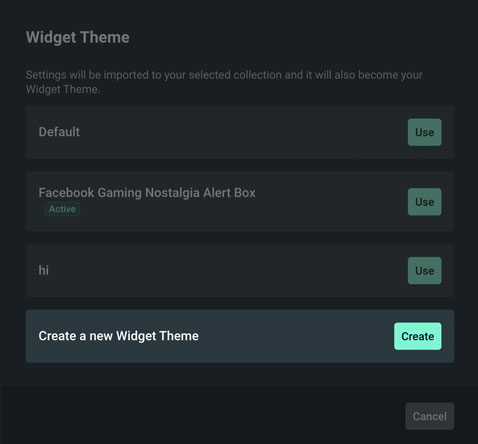 Give it a new (e.g. Boosted Theme)
And select use to use your custom alert.
Congratz! Your new custom alert is now added to your Streamlabs AlertBox and you can customize it like you would any other alert!
---
How to Create your own Stream Alerts
If you want a custom stream alert that fits your personalized branding, you can use Photoshop (paid) or Canva (free) to create your own!
Alternatively, you can hire a Freelancer on Fiverr to do this for you.
Once you're done with your design, you can upload them to your Streamelements AlertBox using the SET IMAGE or CHANGE VIDEO buttons.
The video below will teach you how you can make custom ANIMATED stream alerts using Canva.
---
That should cover just about anything you need to know to set up stream alerts for Twitch, YouTube, or Facebook using both Streamelements and Streamlabs!
As you can see, adding alerts is pretty simple.
Using Streamlabs alerts in combination with Streamlabs OBS is definitely the most beginner-friendly method but even Streamelements gets fairly easy once you get used to adding browser sources.
Streamelements is far more customizable than Streamlabs when it comes to alerts, making it the preferred method for advanced streamers.
Don't feel bad about starting out on Streamlabs though, you can always make the switch in the future!