Last Updated on 09/24/2023 by Dean
This article covers JoshSeki's full streaming setup, including all essential gear, PC specs & Valorant Settings!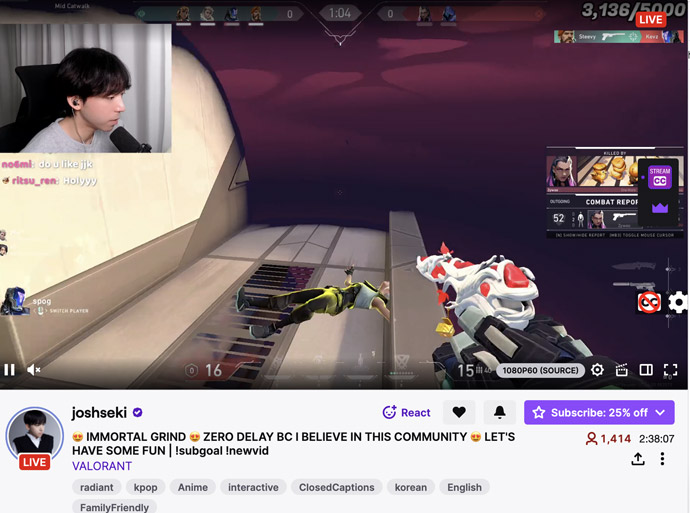 To keep these articles as up-to-date as possible, the Streamerfacts team revises these articles every 3 months. If you feel it needs an update sooner, feel free to comment below or contact us.
As an Amazon Associate, Streamerfacts earns from qualifying purchases.
---
Josh Seki Gear Setup
---
Josh Seki's gaming setup features a Ryzen 5950x CPU and RTX 3090 GPU. These settings are good for 571 FPS in Valorant on High settings according to Whatsmyfps.com.
Josh Seki's Valorant Settings
| | |
| --- | --- |
| MOUSE DPI | 800DPI |
| Valorant Sensitivity | 0.25 |
| eDPI | 200 |
| Resolution | 1920 x 1080 |
| Crosshair | |
Crosshair code:
0;s;1;P;d;1;f;0;0t;4;0l;1;0o;0;0a;1;0f;0;1b;0
---
Need more info on the peripherals? Let's take a closer look…
---
What mic does Josh Seki use?
Josh Seki uses the Shure SM7B
The Shure SM7B is the most used microphone by streamers and preferred for its superior audio quality over any USB microphone. Keep in mind that this is an XLR microphone and requires a professional audio setup that includes an Audio Interface (mixer).
Josh Seki full Mic setup
| Preview | Product | Price | |
| --- | --- | --- | --- |
| | Shure SM7B Dynamic Vocal… | $399.00 | Buy on Amazon |
| | RODE PSA1 Swivel Mount… | $98.50 | Buy on Amazon |
| | TC Helicon GoXLR MINI… | $194.60 | Buy on Amazon |
| | Amazon Basics XLR… | $8.40 | Buy on Amazon |
As the Shure SM7B doesn't come with a mic stand, Josh Seki uses the Rode PSA1 microphone stand to attach her mic to her desk. Rode's PSA1 is used by the majority of streamers and is thus a no-brainer.
Furthermore, Josh Seki also needs an audio interface to get her SM7B to work. While we couldn't find the exact model he's using, we expect it to be something like the GoXLR mini which is what a lot of streamers use.
Also used by these streamers
---
What Headset does Josh Seki use?
Josh Seki uses the Logitech G Pro X 2 headset
Josh Seki has the white Logitech G Pro X 2 headset.
Furthermore, Josh also owns a pair of IEM earbuds (Moondrop KATO) which he is frequently seen wearing while playing Valorant.
This gaming headset is wireless and comes with 50mm Graphene Drivers, 7.1 surround sound, and is compatible with Playstation & Switch consoles as well as PC.
While the headset has pretty standard features found in much cheaper gaming headsets (e.g. HyperX Cloud II), it does have something no other gaming headset has: a good microphone.
But this has little to do with the hardware, and more with the software. Through the Logitech G Hub you can enable Blue Voice which can make your voice sound like that of a professional. While this may sound like a gimmick, it works really well. So anyone who's deadset on using their headset mic for streaming, the Logitech G Pro X is the best choice.
Of course Josh Seki doesn't use the built-in microphone as he has a much better sounding Shure SM7B.
---
Wrap up: Josh Seki's Gaming Setup
That's all the intel we have on Josh Seki's streaming setup! Hopefully, you got the answers you were looking for. If you're in the know and anything is missing, let us know and we'll update it.
We aim to keep these stream setup articles as updated as possible so we appreciate any help we can get! If you're not done yet, you can check out some more steamer setups below.
BTW, if you are a streamer looking for equipment, we can help you with that. Copying your favorite streamer's setup is quite expensive, but our articles help you find the best gear for your budget!
👉 Start here: Best setup for Streamers.
---
More Valorant Streamer Setups
---
Best Streaming Equipment in 2023
Are you reading this article because you're looking to upgrade your streaming/gaming setup? We got you covered!
In a separate guide, we've collected the best streaming equipment you can find for EVERY budget. Whether you're looking for an entry-level, intermediate, or professional streaming setup, we've done the heavy lifting for you!
You can also navigate some of our buying guides: