Last Updated on 09/04/2023 by Dean
Looking to upgrade your streaming setup? Are you unsure which equipment to upgrade first and what your best options are budget-wise? You came to the right place!
It's no secret that at Streamerfacts, we love to review the Streamer Setups of some of the top broadcasters on Twitch, Kick, YouTube, and so on.
We also get a ton of questions from you guys about which equipment is best to start off with, what you should prioritize, and so on.
For this reason, we've decided to make an in-depth guide covering everything you need to know to start or upgrade your streaming setup. Whether you are just starting out, or you are already streaming to tens, hundreds, or even thousands of viewers – this guide is for you.
As an Amazon Associate, Streamerfacts earns from qualifying purchases.
What You Need in a Streaming Setup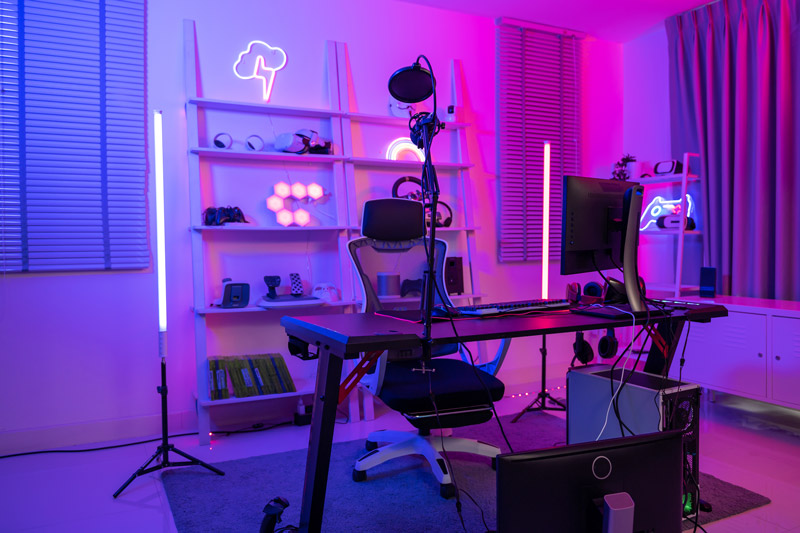 When it comes to a streaming setup, we prioritize the following:
Buy your equipment exactly in that order. All other peripherals such as headsets, keyboards, gaming mice, gaming chair, and desks, should ONLY be considered once you already have a good base streaming setup.
Don't be the streamer with a fancy $700 Secret Lab gaming chair that still uses their headset microphone.
make sure you have a good internet connection
Having a decent internet connection should be your top priority as this will directly impact the quality of your stream. Nobody wants to watch a laggy or low-quality stream, It's 2023, and our attention span is low.
The main thing you want to look for is upload speed, this directly impacts the quality of your live stream. For example, on Twitch, you need 6Mbps to stream 1080p at 60fps.
Ideally, your upload speed should be between 6 – 10 Mbps to be on the safe side for livestreaming.
To test your upload speed, you can visit speedtest.net and do a quick speed test.

Tips to increase upload speed
If your upload speed is too low for streaming, here's a list of changes you can make.
Connect to your router via cable, not wi-fi
In no case should you be streaming from Wi-Fi. Your first priority is to get an ethernet cable (they're dirt cheap and come in all lengths) and connect to your router via cable.
If for some reason you cannot connect to your router via cable (e.g. your room is to far removed from the router), you can get a set of powerline adapters as a second-best solution.
Powerline adapters extend your network through your electrical net. Here's how you set them up:
Install adapter #1 into the electrical socket where your router is, then connect via the included ethernet cable
Install adapter #2 into the electrical socket where your streaming setup is, and connect via the included ethernet cable to your streaming PC
That should fix your upload speed.
Upgrade your internet connection
If you are already connected via an ethernet connection (either direct or through powerline adapters), but still struggle to achieve the minimal upload speed, your internet connection may not be good enough.
Check what the promised upload speed is of your current provider, and upgrade if necessary.
What to look for in a streaming PC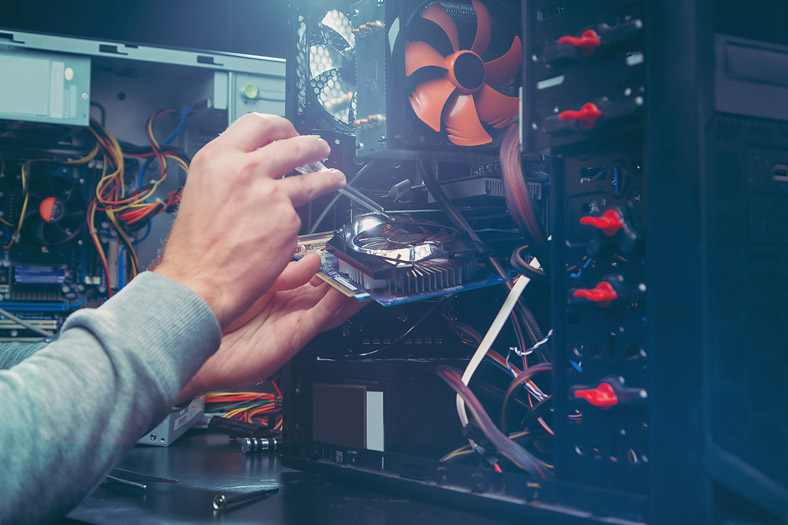 Most of you reading this might already have a streaming PC or laptop, that is good enough for streaming. In this case, you can move on to the next section. But for those of you who don't yet have a streaming device, here are some things to look out for.
Minimum requirements for a streaming PC or laptop
CPU: AMD Ryzen 5 5500 or Intel i5 equivalent
GPU: DirectX11 compatible GPU
RAM: 8GB or more
OS: Windows 10 or 11
You can easily build a budget streaming PC for around $500.
Budget streaming PC Build
The best way to save money on a streaming PC is to build your own from scratch. You can build your own streaming PC for a budget as small as $500 using the parts below.
Building your own PC might seem daunting at first, but it's really not that bad once you get started. Give it a shot you'll save a ton of money now, and you can always upgrade parts in the future. Youtube is your friend, use tutorials!
Need more info? Check out: Best BUDGET Streaming PC Build 2023
Mid-tier streaming PC Build
Here's a streaming PC build for just under $1k. Many components stay the same as with the budget PC but we upgraded the CPU and GPU for more FPS in game.
Of course, you are welcome to select your own case or make any other changes if you are comfortable with that.
High-end streaming PC Build
This wouldn't be an in-depth streaming setup guide without a little overkill, would it? For those with an infinite budget (any top streamers reading this?) Here's the best streaming PC money can buy in 2023.
The best streaming PC money can buy will set you back around $3300. This is the same build some of the top streamers (e.g. Valkyrae) are currently running.
Here are two more articles that can help you choose the best components for your streaming PC:
best microphones for streaming
Having a decent microphone is key to becoming a quality livestreamer. You may get away with streaming without a webcam, but no one is going to stick around if your microphone quality is subpar.
In 2023, where even casual TikTokers have their own lapel microphones, livestreamers must have a decent microphone as part of their setup.
Two types of streaming microphones
Did you know there are two types of microphones streamers do? Well, now you know.
USB Microphones
USB microphones are easy-to-use microphones that come ready to go out of the box. This is the option most commonly applied by streamers with less than a thousand viewers (though some streamers continue to use USB microphones well above this viewer count)
USB microphones are affordable and hassle-free. This is the option we recommend to most beginner streamers and is your safest bet as a first microphone.
XLR microphones
XLR microphones are the type of microphones used by industry professionals. Think radio and TV broadcasting, the music industry, and top-tier streamers.
These offer much more versatility and control over your audio than USB microphones but come at a much higher cost.
Compared to USB microphones, XLR microphones do not have an Audio Interface built into the device, meaning you have to purchase them separately.
The cheapest XLR setup you'll find will set you back around $300, while a streamer favorite such as the SM7B will easily cost around $700 for the full setup.
Best USB microphone for streaming
Our top pick for a USB microphone is the Blue Yeti Nano. This is a budget USB microphone that is frequently on sale but still boasts that sound & build quality Blue Yeti is known for. Blue Yeti microphones have long been used by streamers and other types of content creators so you know they are good.
The Blue Yeti Nano comes with a ton of voice customizations inside the app. It includes a desk stand which we recommend swapping out for a budget microphone stand like the Innogear boom arm.
Best XLR microphone for streaming
There can only be one king, and the Shure SM7B rules the land of livestreaming. Being the most used streaming microphone (used by over 80% of streamers whose setup we have reviewed), the Shure SM7B is an unstoppable force.
Get the full setup
The Shure SM7B requires the following additional purchases: Audio interface, Boom arm, XLR cable.
Best webcams for streaming
Streaming without a webcam is a risky move we suggest you avoid unless you plan to become a vtuber. This doesn't mean you should be dropping a ton of money on your camera setup however, as you may have noticed webcams are very low on the list of priority.
Any 1080p webcam will do just fine while you are starting off, it's likely you already have one lying around or you might have a relative that has a spare one.
💡 Did you know you can use your smartphone camera as a webcam through apps such as Epoccam (iPhone) and Droidcam (Android).
Those with limited funds can buy a cheap 1080p webcam as a last resort. The Logitech C920 or C922 are great options.
Those with a larger budget should consider buying a mirrorless camera over a webcam. Mirrorless cameras offer a much clearer image than any premium webcam can offer, which is why this option is used by the majority of top streamers today.
How to use a mirrorless camera as a webcam while streaming
To set up a mirrorless camera as your webcam, you need a capture card that will export your raw camera image into your streaming software. This device is called the Elgato Camlink.
Additionally, you'll need an HDMI cable to link your camera with the capture card, a dummy battery for power, and a tripod or other mount to set up your camera on your desk.
⚠️ Not every mirrorless camera has the 'clean HDMI out' feature that is required to use it as a webcam. To ensure your camera has this feature, or the camera you buy has this, check out this list of compatible cameras.
Once you have a compatible camera and Elgato Camlink, it's pretty simple:
Install the Elgato Camlink into a USB port on your PC and run an HDMI cable to your mirrorless camera
Go to your OBS (Broadcasting Software) and add a new source: Video Capture Device
Select your Elgato Camlink as the source
Finally, crop the Video Capture Source and move it to a corner of your preference
That's it! Setting up the camlink is easy. Here's a tutorial video if anything is unclear.
Best mirrorless camera for streaming
Get the full setup
Mirrorless cameras require the following additional purchases: dummy battery, tripod, Elgato Camlink, HDMI cable
Tips & options for stream lighting
When the lighting is good, even an inexpensive webcam can make a beautiful facecam. A perfect example of this is Kyedae, who uses the relatively cheap Logitech Streamcam but her lighting is so on point that you'd never think she's using a budget camera.
Room lighting is very unflattering which is why streamers broadcast from dark rooms and instead point a key light directly at them to make them pop from the background.
Now there are many advanced ways to play with lighting that some top streamers are doing out there but for the sake of this guide, I'd like to keep it simple and say you only need one good key light in your setup.
👉 We have an article on stream lighting for those interested in more elaborate lighting setups.
You may have noticed that we placed webcam ahead of lighting in terms of purchase priority, however, you should never spend 100% of your camera budget on just your webcam.
I'd go as far as to say, spend 100% of your budget on your lighting, and use your phone as your webcam instead.
Again, Epoccam is a phenomenal way to use your phone as a camera, especially if you have a recent iPhone.
Here are some choices for you:
If you have an iPhone, use Epoccam & spend 100% of your camera budget lighting instead
OR if your budget is $150, spend $100 on your webcam and $50 on lighting
OR if your budget is $100, spend $50 on your webcam and $50 on lighting
Those with bigger budgets should buy at least one Elgato Key light for the best way to light up their streaming setup.
Best Key Light for streamers
The Elgato Key Light offers the best way to light up your streaming setup with a single light.
This is a 2800-lumen studio light that can be clamped to the back of your desk and is fully adjustable through the app. The key light is designed with streaming in mind and it shows as you get full control over this very powerful key light.
It's a premium light, but if you spend 100% of your camera budget on your lighting setup, you might be able to get one and pair it with an existing webcam, camera, or iPhone.
Elgato Key Light Alternatives
The Key Light is a premium light that is not within every budget, here are some budget-friendlier alternatives.
The Elgato Key Light Air is Elgato's own alternative to the Key Light. Coming in at half the amount of LEDs, the Air is a less versatile budget alternative to the original Key Light.
It's still powerful enough for a single lighting setup and a great alternative to its premium brother.
The Neewer GL25B is Neewer's copy of the Elgato Keylight at about half the price. It comes with 176 LEDs (16 more than the keylight), offers full customization, and includes a similar sturdy desk clamp.
Again, at just 50% of the price of the Key Light!
A final, inexpensive lighting option is the Logitech Litra Glow which can be attached directly to the top of your monitor.
This entry-level light can be fully adjusted from the back or by using the Logitech G hub software.
---
Streamer Equipment for every budget
You really don't need that much money to start streaming, if you already have a streaming PC, you only need about $150 to get a decent setup going.
Below we've made three bundles for every budget.
Budget Streamer Equipment
For streamers with a budget of around $150.
Microphone
We chose the Blue Yeti Nano as our top pick for a budget microphone. Blue Yeti has long been the entry-level brand for content creators so you don't just have to trust our word for it, these mics are solid.
You can pair the Blue Yeti Nano with a budget Innogear boom arm.
To save even more on your Blue Yeti Nano, you can also look out for renewed versions on Amazon.
Webcam
Your phone!!
Logitech C920 (second hand)
We recommend not purchasing a webcam and instead using your phone with Epoccam (iPhone) or Droidcam (Android). It's highly likely your phone camera is far superior to any camera within your budget and this allows you to spend your full camera budget on stream lighting.
As an alternative, try to pickup a second-hand C920 from Facebook Marketplace and save up for an Elgato Facecam.
Lighting
Opt for the Logitech Litra as an entry-level stream light that can easily be attached to your monitor and give you full control over the brightness.
Alternatively, you can skip out on lighting for the time being and save up for an Elgato Key Light Air.
Intermediate Streamer Equipment
For streamers with a budget of around $500.
Microphone
The Shure MV7 is the little brother of the infamous SM7B. Where the SM7B is an XLR-only microphone, the MV7 has built-in audio interface meaning it can be used via USB as well as XLR. This makes the MV7 a perfect middle-of-the-round pick for a microphone.
You can get this microphone first and use it as a USB-plug-and-play microphone, and upgrade to an Audio Interface later on for increased sound quality and control.
Webcam
Both the Elgato Facecam and Logitech Streamcam are webcams that cost in the $100 range and offer 1080p in 60fps. I've found the Elgato Facecam to be slightly better quality than Logitech's streamcam overall which is why it's in the number one position.
However, if you are deciding between the two, go for the one that's currently on sale.
One thing to note is that the Logitech Streamcam has a USB-C type connection so make sure you have such a connection on your motherboard.
Lighting
These three lights come at different price points but each does its individual job pretty well. We recommend the Elgato Key Light Air if the Elgato Key Light is too expensive, but the Neewer GL25B is a solid choice as well.
Remember that lighting is more important than camera quality so upgrade this first, then upgrade your webcam.
Professional Streamer Equipment
For streamers with a budget of over $1000, looking for a top tier setup.
Professional Microphone Setup

Being the most popular streamer microphone, the Shure SM7B is by far the best pick out there if you want your stream to have professional-level sound.
Pair it with the GOXLR Mini Audio Interface and Rode PSA1 microphone stand for the best streaming setup money can buy.
Camera
Our top pick for a streaming camera is the mirrorless Sony a6400. Yes its expensive, but this should also be the last thing you upgrade in your setup. While mirrorless cameras have become a staple among top streamers, it's not a necessary upgrade. You can still have a phenomenal stream setup with a simple Elgato Facecam and a good lighting setup.
Only streamers who make over $10k per month tend to go for a mirrorless camera in their setup, but you do you!
Lighting

For maximum control over your stream lighting, the Elgato Key Light is the best option on the market. At 2800 Lumen, this is a phenomenal light for any stream setup. Attach it to the back of your desk and control it via the app or your stream deck.
---
Budget Streamer Peripherals
Have you got some budget left over for peripherals? Here are some of our top picks.
Best headset for streamers
Going for less than $100, the HyperX Cloud II is one of the best price/performance for a headphone you'll find on the market today.
This headset features 7.1 surround sound enabling it to perform at any competitive game you throw at it. It comes with comfortable memory foam over ear cups and a nice aluminum body.
Finally, you get to choose between wired and wireless.
Used by: Pokimane, Sydeon, Valkyrae
Best Keyboard for streamers
If you're looking for a responsive yet inexpensive gaming keyboard, look no further than the HyperX Alloy Origins. You can get this keyboard in many different sizes based on your preference. We recommend the 60% version to save some desk space.
Aside from the keyboard size you can also pick between their three different types of switches. As with most gaming keyboards, you get RGB backlighting customizable in the app.
Used by: Tarik, Sydeon, Valkyrae
Continue reading: Best Gaming Keyboards for Streamers
Best Mouse for streamers
Depending on what kind of streamer you are (competitive games vs casual) we recommend going either for the HyperX Pulsefire Haste as a budget gaming mouse or opting for the Logitech G Pro X Superlight if you are looking to compete at the highest level in a competitive video game such as Valorant.
Superlight is used by: TenZ, nAts, Stewie2k
Best Chair for streamers
Streamers sit at their desk for hours and hours at an end, which is why a good ergonomic chair is crucial for your long-term health. Secret Labs Titan is a premium chair with phenomenal lumbar support built into the chair, enabling you to push long streaming sessions while still being very comfortable and supported.
---
Stream Setup FAQs
Do I need a capture card to stream?
Unless you plan to stream content from a console (e.g. a PS5), you won't be needing a capture card to capture your gameplay, your OBS software will do this for you for free.
Do I need a PC to stream?
Technically you don't need a PC to stream from. You can stream directly from a console or your mobile phone. However, having a PC enables you to use OBS software giving you much more control over your stream.
To take streaming to the next level, we recommend getting a Budget Gaming PC.
How do I stream from my PC?
You can livestream from your PC by installing OBS software, which is free.