Last Updated on 02/17/2023 by Dean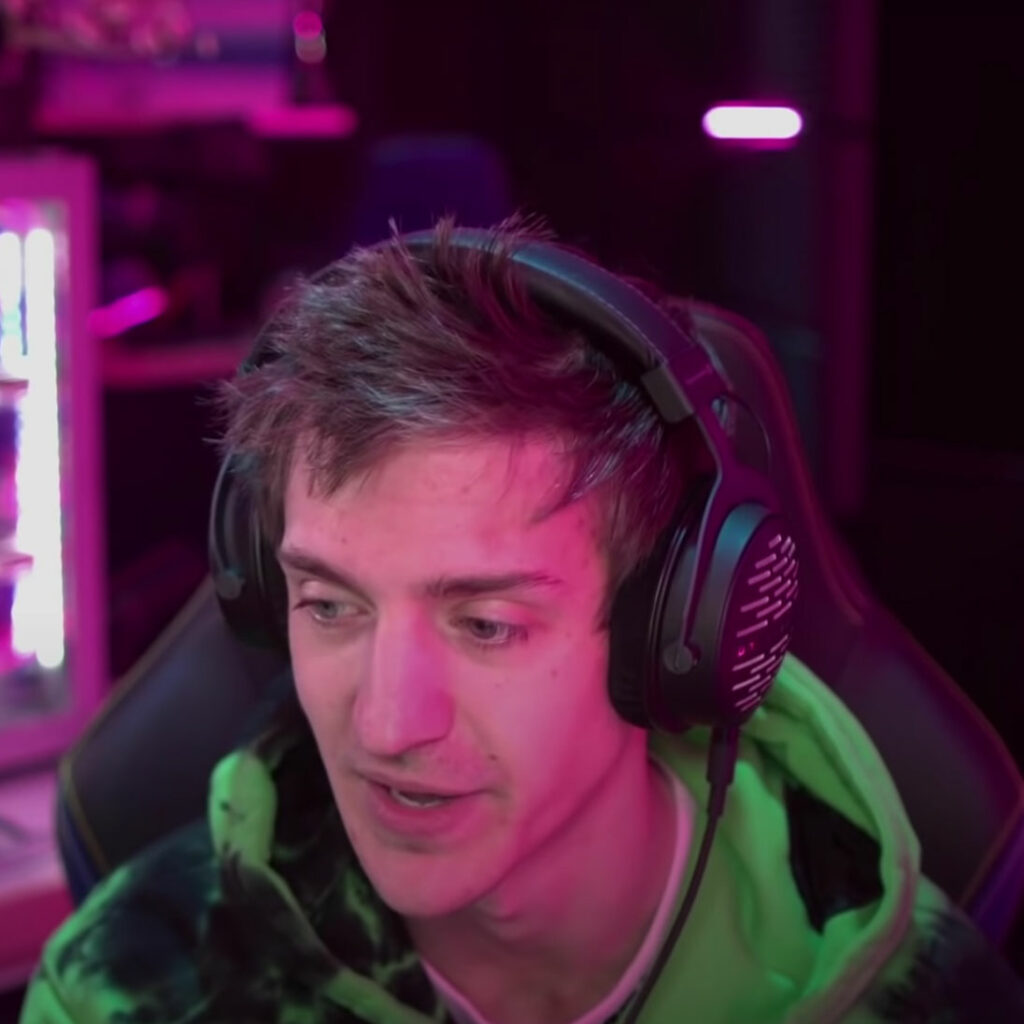 | | |
| --- | --- |
| Real Name: | Tyler Blevins |
| Nationality: | American |
| Date of Birth | June 5, 1991 |
| Age: | 30 |
| Net Worth: | $30,000,000 USD |
What is Ninja's net worth?
Ninja's estimated net worth is $30,000,000 USD.
How does Ninja make money?
Ninja is one of the biggest names in the gaming industry. He is a widely popular Twitch Streamer, a retired professional Halo player, and seen by many as the face of Fortnite.
Ninja is the highest-earning streamer ever through impressive sponsorships and brand deals, most notably his exclusive deal with Mixer which made him over $30 million dollars.
Here's a little run-down of how Ninja makes money:
👉💰 Or [SKIP HERE] to see how much Ninja makes per month.
Ninja makes money on Twitch through subscribers, donations, and advertisements.
Subscriptions
Subscribers are viewers who pay a monthly fee to support Ninja on Twitch.
Ninja keeps 70% of his earnings from subscriptions on Twitch meaning he'll make about $3.50 per tier 1 subscriber. This is because he qualifies for the 70/30 sub split on Twitch.
Donations
Ninja accepts donations from fans through PayPal on his Streamlabs tip jar.
Advertisements
Twitch streamers make an income from advertisements as well. These video advertisements will often play before you enter a stream and can re-appear at any time at the streamer's discretion.
We estimate that streamers make around $2 per 1000 viewers on Twitch.
Considering Ninja has an exclusive contract with Twitch, it is possible that his ad earnings are higher than the average streamer.
👉💰 [SKIP HERE] to see how much money Ninja makes from Twitch.
Ninja's YouTube channel has 24 million subscribers and he uploads about 3 times per week to his YouTube channel. On average, his videos get around 400k views each.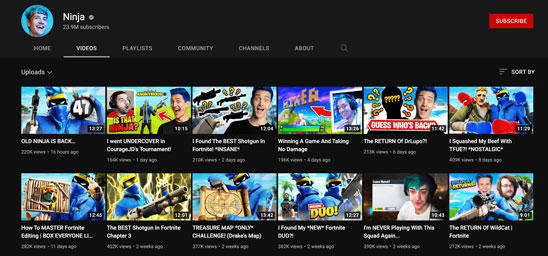 On YouTube, YouTubers can make money from advertisements. They'll receive a certain amount (CPM) per 1000 viewers. We estimate that Ninja's CPM is anywhere between $3 and $4.
👉💰 [SKIP HERE] to see how much money Ninja makes from Youtube.
Of course, Ninja is also a professional esports athlete, starting his career as a Halo professional as well as seeing huge success in the early days of Fortnite.
According to esportsearnings, Ninja has made a grand total of $280,313.29 from 53 tournaments.
The majority of his esports earnings come from Fortnite, Halo, PUBG, and H1Z1.
Sponsorships & Brand Deals
Being one of the biggest faces in gaming and streaming, Ninja has a lot of serious sponsors and brand deals under his belt: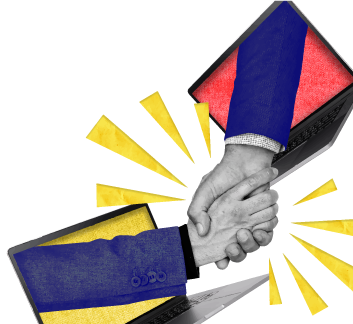 Each of these brand deals and sponsorships has undoubtedly contributed massively to his net worth.
👉 Learn more about how sponsorships work on Twitch.
Ninja also has his own merch line available at TeamNinja.com. Ninja's merch comes at premium prices and likely makes him a pretty extra penny.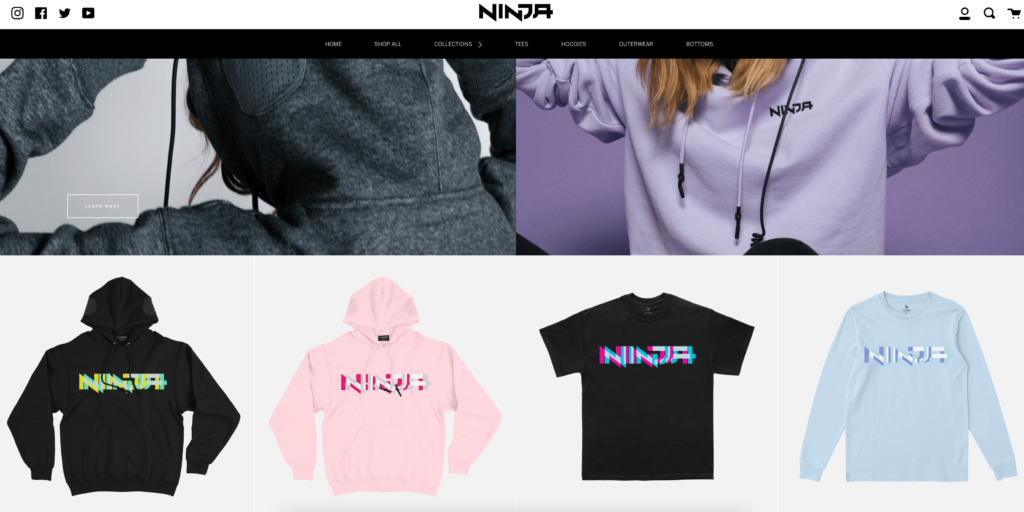 Want to sell your own merch? This article will teach you how!
---
How much do Twitch streamers make?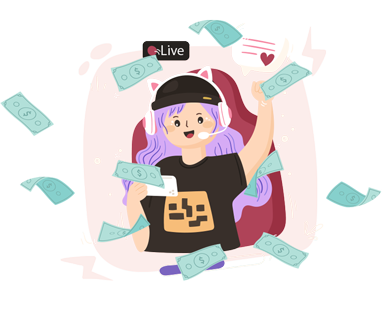 Interested to know how much Twitch streamers make? We've covered everything there is to know about the salary of Twitch streamers of every size, whether they are small creators who stream to less than 100 people or top-tier creators on the platform!
---
How much money does Ninja make from Twitch?
Ninja makes an estimated $33,588 per month from streaming on Twitch.
Here's how this adds up:
According to Twitch Tracker, Ninja currently has 8000 average monthly subscribers on Twitch.
Fun fact: 42.4% of Ninja's subscribers are Twitch prime subs.
Considering he makes $3.50 per tier 1 subscriber, we estimate that Ninja makes at least $28,000 USD per month from subscribers on Twitch.
…From Twitch Advertisements
Twitch Tracker tells us that Ninja had 2,794,010 views in the last 30 days.
If we consider a $2 CPM, this would mean that Ninja makes $5,588 per month from Twitch advertisements.
Again, we estimate a $2 advertisement CPM for most streamers but Ninja likely makes more.
Donations are hard to estimate as we have no website that can accurately track this information. We estimate that Ninja makes at least $2000 – $4000 in donations each month.
We do not include donations in our estimations.
👉 Learn how to set up donations on Twitch.
Fun Fact: Ninja's highest earning month on Twitch
In 2018, at the height of his and Fortnite's popularity, Ninja made a lot more money on Twitch. During this time he even had a month where he had 269,154 subscribers. This would have made him $942,039 in subscribers alone.
In this same month, he accumulated 42,800,000 viewers which would be good for about $83,600 in ad earnings.
Meaning that in a single month, in April of 2018, Ninja made well over a million dollars from streaming on Twitch.
---
How much money does Ninja make from Youtube?
According to Social Blade, Ninja has about 8.2 million average monthly video views on his YouTube channel currently.
This is a stark difference from last year, where we reported 18 million average monthly video views. However, it seems that Ninja's viewer count is once again on the rise, consistently reaching over 12 million video views in the last 2 months.
Considering a $3 CPM, we estimate that Ninja makes $24,600 per month from advertisements on YouTube.
---
How much money does Ninja make per month?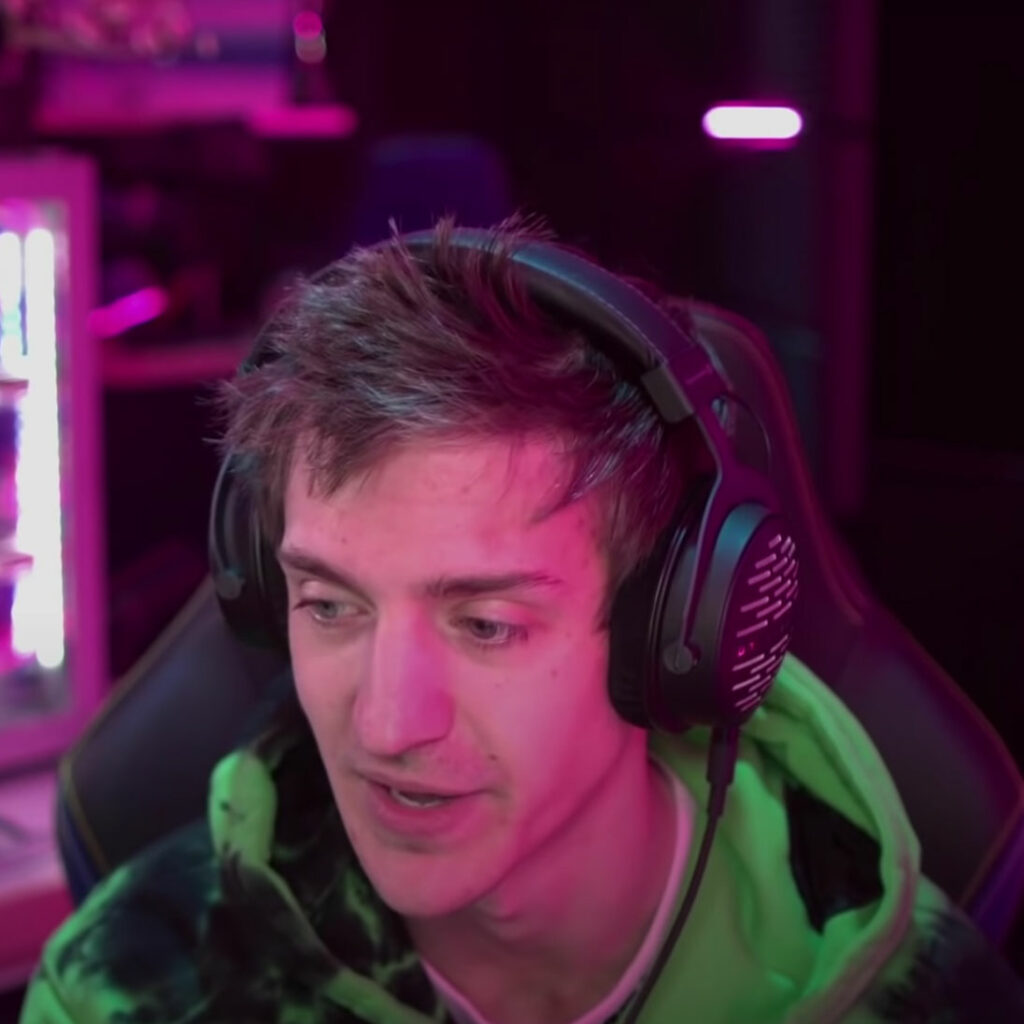 Ninja currently makes an estimated $58,188 per month from streaming on Twitch and uploading highlights to his YouTube channel.
Of course, this estimation does not include the money Ninja makes from sponsorships, brand deals, selling merch, donations, and other income sources we cannot track.
Ninja makes far more money from his overall brand (brand deals/sponsorships/merch sales) than he does from advertisements on youtube/twitch. If we were to include those, Ninja's estimated monthly income would be closer to $500k per month.
---
How much did Ninja make from the Mixer deal?
Ninja made $30 million dollars from the Mixer deal.
After signing an exclusive $30 million dollar contract with mixer, Ninja was left with a lot of money when the platform closed down on June 22. Afterward, he signed an exclusive contract with Twitch.
---
How did Ninja get started?
Ninja grew up in the suburbs of Chicago.
Immediately after high school, he started focussing on playing video games at a professional level. The first game he played competitively was Halo. His first even tournament was MLG Orlando in 2009 when he was 19 years old.
Ninja became known to the esports world as one of the best Halo players after he got picked up by Final Boss, one of the most popular teams at the time.
In 2011, Ninja started streaming on Twitch.
With the release of H1Z1 in 2015, one of the first Battle Royale, games, Ninja was instantly hooked for the game mode. Later he would switch over to PUBG when the game came out in 2017.
Half a year after PUBG came out, Fortnite was released, and Ninja's Twitch stream blew up under the immense popularity of the video game.
On March 15, 2018, Ninja set a Twitch record as he streamed to 616,693 concurrent viewers while playing squads with Drake, Travis Scott, and JuJu Smith-Schuster.
In April 2018, he broke his own record streaming his Fortnite event Ninja Vegas 2018 to 667,000 viewers.
In August 2019, Ninja signed a $30 million exclusive deal with the Mixer streaming platform.
In that same month, Ninja came out with a book called 'Get Good: My Ultimate Guide to Gaming' which is available on Amazon.
When Mixer shut down in July of 2020, Ninja became a free agent (got to keep the money) and signed an exclusive contract with Twitch.
---
Ninja FAQ
Who is Ninja married to?
Ninja married his wife and manager, Jessica Goch in 2017.
When did Ninja become famous?
Ninja saw some early success playing Halo professionally but his real fame came in 2017 through streaming Fortnite. At the height of his fame, Ninja had 269,154 subscribers on Twitch in a single month.
That is an insanely impressive feat. This subscriber record was later beaten by Ludwig through his viral subathon. Though many believe that Ninja's feat was more impressive as he did it without help.
Is Ninja still sponsored by Red Bull?
It does not seem like Ninja is still sponsored by Red Bull. In his recent streams, there hasn't been any Red Bull branding in the background. He also signed with G-FUEL in March of 2022.
Is Ninja the richest streamer?
Yes, Ninja is the richest streamer. For a long time, he was the highest subscriber Twitch streamer, making over 1 million dollars per month solely from subscribers and advertisements at the height of his fame. He also has his exclusive contracts (such as the $30million Mixer contract) and high-level sponsorships (e.g. EA paying him $1 million to stream Apex Legends on launch day) to thank for his status as the richest streamer.
Is Ninja still popular?
While Ninja has taken a bit of a hit from his early Fortnite days, he is still a widely popular streamer with over 14,000 average viewers on Twitch.
What games does Ninja play?
Ninja plays a variety of games such as Fortnite, Valorant, Final Fantasy, and League of Legends.
---
More streamer Net Worths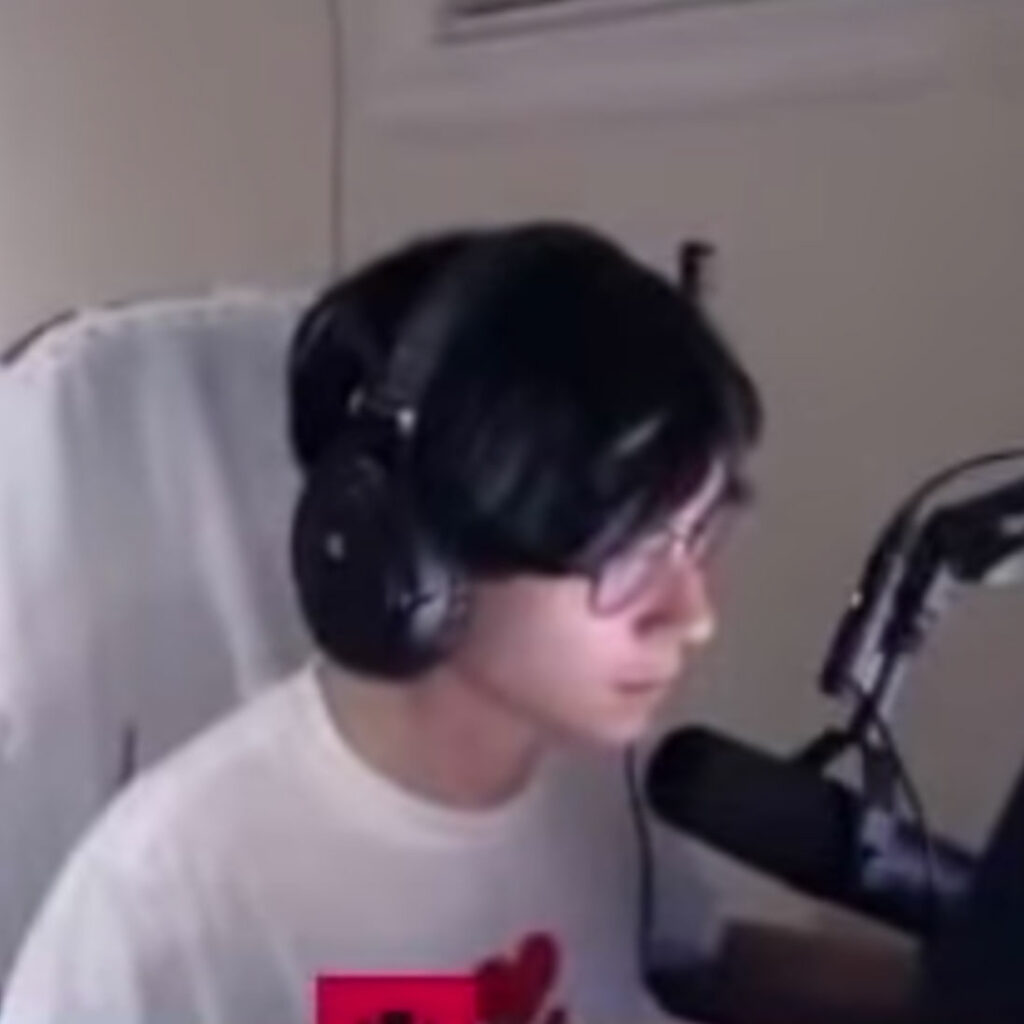 TenZ
Ludwig
xQc
---
Sources
TheScore Esports: The Story of Ninja
---
You might also like
Last Updated on 08/02/2023 by Dean What is Kai Cenat's net worth? Kai Cenat's estimated net worth is $7 million USD. How does Kai Cenat make money? Kai Cenat is…