Last Updated on 09/08/2023 by Dean
Interested to know what type of gear Sen Sacy uses in his streaming setup? In this article, we'll take a look at every piece of equipment Sacy uses (at least the ones we could find!)
We aim to update our stream setup articles every 3 months, if the info is outdated don't be afraid to contact us and we'll update it!
As an Amazon Associate, I earn from qualifying purchases.
What microphone does Sacy use?
The Shure MV7 is the little brother of the beloved SM7B that comes at a cheaper price point and has both USB and XLR outputs.
This is actually the microphone we recommend for streamers who want to have a professional-looking microphone, but don't yet have the funds to get a full audio interface setup. With this mic, you can go USB-only, while you save up for an audio interface.
Furthermore, the fact that it doesn't require an audio interface makes this mic much more travel-friendly than the original SM7B. Just pack it in your suitcase and have a professional mic with you at all times!
---
What mouse does Sacy use?
One of the most popular gaming mice in the Valorant scene, it makes sense Sacy uses the Logitech G Pro X Superlight.
This mouse hasn't stolen it's name, weighing just 63 grams, it's one of the lightest gaming mice on the market. This mouse has a 1ms response time, a battery life of up to 60 hours, onboard memory for 5 different DPI profiles, 2 side buttons & boasts up to 25,600DPS.
Furthermore, it's completely wireless with next to no delay.
---
What chair does Sacy use?
Sacy is currently in an ongoing brand deal with Secretlab through Sentinels and thus sits in a Secretlab Titan Evo.
Secretlab hardly needs an introduction. Many Valorant pros and streamers use this chair either because they are sponsored, or simply because they love the design and the build quality. I'm no different, writing this from an older Secretlab Omega chair I've had for 8 years now.
Looks and fun designs aside, Secretlab Chairs come with a lot of technology to provide you with an ergonomic gaming experience. From advanced lumbar support built into the back to adjustable armrests and a comfy magnetic pillow.
---
What headset does Sacy use?
This is a wired gaming headset with 7.1 surround sound and a durable aluminum frame that is built to withstand daily gaming.
It comes with a detachable noise-canceling microphone and an audio control mixer that lets you activate surround sound, control your microphone and volume.
The headset also features bass adjustment sliders on each side of the ear cups so you can pick between 3 levels of bass.
---
What monitor does Sacy use?
Valorant players such as Sacy need at least 240Hz to keep up with the meta, and the best monitor for the job is undoubtedly the BenQ Zowie 2546K.
This monitor is designed with FPS games in mind, featuring their very own Dynamic Accuracy technology which reduces blur while playing. No wonder this monitor is used by almost every Valorant/CSGO streamer (with most exceptions being sponsored streamers).
This premium gaming monitor comes with detachable shields on each side to keep you in the game.
The BenQ Zowie monitor is so versatile and adjustable you don't even need a monitor arm to put it in your prevent position. The height-adjustable stand can adjust to any viewing angle you prefer. All in all, the BenQ Zowie XL2546 is one of the best monitors on the market for Valorant if you can afford it (and your PC specs can handle it).
---
What cam does Sacy use?
Sacy uses a fancy DSLR camera as his stream webcam to get much better quality than any webcam could ever give him. The way this works is you hook up your camera to your PC via a capture card (Elgato Camlink) and then add the video capture source to your OBS.
What mousepad does Sacy use?
Zowie makes some of the best mousepads out there for competitive games.
---
What keyboard does Sacy use?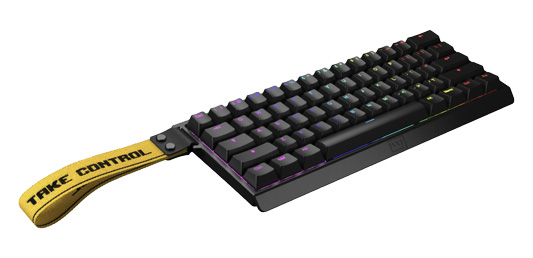 Sacy uses the Wooting 60HE keyboard
The Wooting 60HE hardly needs an introduction, it's the fastest gaming keyboard on the market today thanks to their Lekker Switches & fantastic software that allows players to set their actuation and deactivation force to as little as 0.1ms, a gamechanger for a movement game like Valorant.
The only caveat is that Wooting keyboards are always out of stock, and it takes a long time to get your hands on one. (They also come at a high price point, but not much higher than your average gaming keyboard)
Expect to wait at least 2 months for this master-level keyboard.
Sacy's teammate, TenZ, also uses this keyboard.
Sacy is sponsored by Starforge through Sentinels and uses their 'Lunarian' prebuilt PC.
Here are the full specs:
Sacy's mouse (Logitech G Pro X) is set to 800 DPI and he uses 0.35 sensitivity in Valorant. This means Sacy's EDPI is 280.
Wrap up: Sacy Stream Setup
That's all the information we found on Sen Sacy's Streaming Setup. In case something is missing or needs updating, feel free to let us know! We aim to keep these STREAM SETUP articles as updated as possible.
Check out our other streaming equipment articles below or continue reading more of your favorite streamers' setups.
Best Streaming Equipment in 2023
Are you reading this article because you're looking to upgrade your streaming/gaming setup? We got you covered!
In a separate guide, we've collected the best streaming equipment you can find for EVERY budget. Whether you're looking for an entry-level, intermediate, or professional streaming setup, we've done the heavy lifting for you!
You can also navigate some of our buying guides:
More streamer Setups