Last Updated on 09/08/2023 by Dean
Interested to know what type of gear Ethos uses in his streaming setup? In this article, we'll take a look at every piece of equipment Ethos uses (at least the ones we could find!)
We aim to update our stream setup articles every 3 months, if the info is outdated don't be afraid to contact us and we'll update it!
As an Amazon Associate, I earn from qualifying purchases.
Ethos Gear Setup
💰 How much is Ethos worth? 👉 Check out Ethos's net worth.
What mouse does Ethos use?
Ethos uses the G Wolves Hati Plus 4k gaming mouse
Ethos' mouse settings: 1600 DPI | 0.125
The G Wolves Hati+ is used by a bunch of pro Valorant players right now, just behind the Logitech GPX. This is a lightweight 58-gram wireless gaming mouse that feels similar to the GPX but comes with a 4K HZ polling rate which the GPX does not.
Aside from that, many gamers also prefer the shape (and design) of the Hati+ over the Logitech GPX.
Fun fact: Ethos wears a compression sleeve to prevent carpal tunnel syndrome, keep his mousepad clean from dirt and dead skin, and also improve his aim.
---
What mousepad does Ethos use?
Valorant Pros always follow the meta when it comes to mice and mousepads and the current 2 top picks are Artisan Mousepads and BenQ Zowie.
Ethos prefers the Artisan Soft mousepad as these are known to last longer than BenQ mousepads and are faster.
---
What keyboard does Ethos use?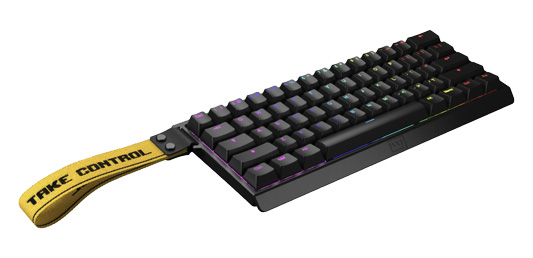 Ethos uses the Wooting 60HE
In case you didn't know, the Wooting 60HE is the fastest keyboard in the world. And used by a huge chunk of Valorant pros today because it's simply too OP not to use it.
What makes it so good?
The Wooting 60HE uses magnetic switches which allow users to set the actuation force to any figure they want between 0.1mm and 4.0mm. Furthermore, it features Rapid Trigger technology which allows for zero delay between actuation and deactivation of key presses.
This allows Valorant pros to set their WASD keys to 0.1mm + Rapid Trigger, enabling them to deadzone and counterstrafe with ABSOLUTELY NO DELAY.
The Wooting 60HE is undoubtedly the best keyboard out there right now.
For more info on this ridiculous keyboard, check out our full article on the Wooting 60HE.
Own a Wooting keyboard and want the same settings as Ethos? Here's his import code:
3ed1c785e63eda0ec6479e4a168529859207
---
What monitor does Ethos use?
Every Valorant pro should have a 240Hz monitor and the large majority of them use the BenQ Zowie XL2546K or the higher refreshrate XL2566k.
What makes the BenQ Zowie XL2546K so good?
BenQ Zowie has always been a favorite for FPS pros in CS and Valorant. But with how inexpensive 240Hz has become, the BenQ Zowie seems a little overpriced and doesn't really shake up the meta as much as it should. That being said, it's still the most widely used monitor so maybe I'm just not seeing what they're seeing.
I'm only a gold player after all.
BenQ monitors are easy to mount on a monitor arm thanks to VESA compatibility and their built-in stand can be set at any angle and height which is a huge bonus. Furthermore, they have DyAc technology which reduces motion blur and is supposed to improve FPS experience.
Fun fact: As BenQ has released the XL2566K, some Valorant pros (e.g. TenZ) have switched to 360Hz. How fast are your eyes?
---
What headset does Ethos use?
Note: Ethos is mostly using his Duno Falcon Pros earbuds during his Twitch streams but does occasionally still wear the HyperX Cloud 2's.
HyperX's Cloud II is a favorite among Valorant Pros even those who aren't sponsored by the company. They make inexpensive gaming peripherals that are high quality and able to keep up with the much higher-priced competitors.
The Cloud II comes in a Wireless and Wired design, Ethos has the wireless version for more versatility. These have a battery life of up to 30 hours.
Cloud II features DTS spatial awareness audio, memory foam cushions, and a noise-canceling microphone.
---
What Earbuds does Ethos use?
Ethos uses the Dunu Falcon Pros earbuds
These are $300 Dynamic In Ear earbuds.
More and more Valorant pros have been using fancy Dynamic In Ear earbuds as of recently instead of headsets to have the game audio fed directly into their ear canals.
---
What mic does Ethos use?
As a content creator, Ethos values audio setup and uses a fancy Shure SM7B microphone. This is the most popular microphone among top streamers and comes at a hefty price point as it's designed for professional studio use.
As a Shure SM7B requires an Audio Interface to drive power from, Ethos uses the Yamaha MG10XU mixer. Furthermore, Ethos also has a Rode PSA1 boom arm to attach the microphone to his desk.
The Shure SM7B uses a Cardioid Polar Pattern which eliminates the possibility of background noises being picked up with a tradeoff being that you have to sit pretty close to your mic for it to properly pick up your voice. 
What Webcam does Ethos use?
Just like having a fancy audio setup, Ethos has a fancy webcam setup as he uses a Sony a64000 mirrorless camera as his webcam.
How does this work?
Ethos has his Sony a6400 set up on his desk on a tripod and a dummy battery keeping it charged. The Sony a6400 is plugged into his gaming PC via a capture card (Elgato Camlink) and finally, the camera feed is imported into his OBS as a Video Capture Source.
---
What chair does Ethos use?
If you thought gaming chairs such as the ones Secretlab makes are expensive, Herman Miller makes even more premium chairs. The Herman Miller Aeron is a classic and very premium office chair used by many professionals because of its design, build quality, and top-level lumbar support.
---
| | |
| --- | --- |
| MOUSE DPI | 1600 |
| Valorant Sensitivity | 0.125 |
| eDPI | 200 |
| Scoped | 0.8 |
| Resolution | 1920×1080 |
Ethos' Crosshair import code:
0;s;1;P;c;5;o;0.2;f;0;0t;6;0l;1;0v;1;0a;1;0f;0;1b;0;S;c;6;o;1
Wrap up: Ethos Gaming Setup
That's all the information we found on Ethos' Gaming Setup. In case something is missing or needs updating, feel free to let us know! We aim to keep these STREAM SETUP articles as updated as possible.
Check out our other streaming equipment articles below or continue reading more of your favorite streamers' setups.
Best Streaming Equipment in 2023
Are you reading this article because you're looking to upgrade your streaming/gaming setup? We got you covered!
In a separate guide, we've collected the best streaming equipment you can find for EVERY budget. Whether you're looking for an entry-level, intermediate, or professional streaming setup, we've done the heavy lifting for you!
You can also navigate some of our buying guides:
More streamer Setups