Last Updated on 08/18/2023 by Dean
Remember that time Hasanabi posted Kkatamina (Miyoung's) crazy gaming setup on his alt twitter account?
ngl @Kkatamina's desk setup is criminal. worst i've ever seen. pic.twitter.com/qNnzOfEmn4

— hasanbabi (@nothasanabi) January 8, 2023
Yep, that mousepad half hanging off the desk is really something.
Let's take a closer look at Miyoungs streaming setup and go over all the equipment she uses.
We aim to update our stream setup articles every 3 months, if the info is outdated don't be afraid to contact us and we'll update it!
As an Amazon Associate, I earn from qualifying purchases.
Kkatamina Gear Setup
💰 How much is Aria Saki worth? 👉 Check out Aria Saki's net worth.
What microphone does KKatamina use?
The Electro Voice RE-20 is one of the most popular microphones out there amongst top streamers, just behind the Shure SM7B.
The Electro Voice is slightly more expensive than the Shure but both the quality of both mics is near-identical and really goes down to personal preference. This mic seems especially popular amongst OfflineTV and friends creators such as Aria Saki, Pokimane, Yvonnie, and others.
As this is an XLR microphone will need an Audio Interface (e.g. the GOXLR MINI, which Miyoung uses) to connect this microphone to your PC setup.
P.s. Miyoung has the black variant of the Electro Voice RE-20.
---
What microphone stand does Miyoung use?
Most streamersuse the Rode PSA1 microphone stand because it's simply the most reliable option out there. It will last you a lifetime! Miyoung is no different and thus opted for this classic mic arm.
---
What mixer does Kkatamina use?
As stated earlier, you can't use an XLR microphone like the RE-20 without an audio interface. That's where the GOXLR mini comes in. Streamers favour TC-Helicons GOXLR and the more compact, cheaper GOXLR Mini as they are very simple to setup and the switches are super handy to control your audio levels while livestreaming.
---
What keyboard does Miyoung use?
This is an affordable gaming keyboard that is fully customizable. You can pick between different sizes: 60%, 65%, TKL, and full size. Furthermore, you can choose your switches: HyperX Red, HyperX Blue, HyperX Aqua.
It comes with RGB backlighting and a detachable charging cable. All around, the HyperX Alloy Origins is one of the best gaming keyboards you'll find within this price category.
---
What mouse does Kkatamina use?
The Pulsefire is HyperX's answer to an affordable yet lightweight and high-performance gaming mouse. It has a braided wire (though a wireless version exists for a $20 upgrade) and features a honeycomb design putting it down at just 59 grams. The Pulsefire has up to 6 programmable buttons, including 2 side buttons, and supports up to 16,000 DPI. 
---
What chair does Miyoung use?
The Mavix M9 is a premium gaming chair with a hefty price tag that comes with a wide range of ergonomic features such as adjustable neck and head support, adjustable backrest, Dynamiv Variable Lumbar support and much more.
---
What headset does Kkatamina use?
As you may have noticed, she only ever has one earbud in, this is because Miyoung finds having both earbuds in to be overwhelming. This is also likely the reason she doesn't own a gaming headset and instead favors earbuds.
---
What webcam does Kkatamina use?
This webcam is Elgato's answer to a streaming webcam and can stream 1080P in 60FPS.
---
---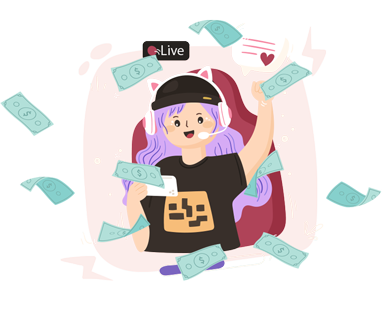 Want to know how much Kkatamina makes?
We've collected intel on Miyoung's income from Twitch, Youtube, and other sources!
---
Wrap up: Miyoung's Stream Setup
That's all the information we found on Miyoung's Streaming Setup. In case something is missing or needs updating, feel free to let us know! We aim to keep these STREAM SETUP articles as updated as possible.
Check out our other streaming equipment articles below or continue reading more of your favorite streamers' setups.
Best Streaming Equipment in 2023
Are you reading this article because you're looking to upgrade your streaming/gaming setup? We got you covered!
In a separate guide, we've collected the best streaming equipment you can find for EVERY budget. Whether you're looking for an entry-level, intermediate, or professional streaming setup, we've done the heavy lifting for you!
You can also navigate some of our buying guides:
More streamer Setups